Past, present and future
'Everywhen: The Eternal Present in Indigenous Art from Australia' on display at Harvard Art Museums through Sept. 18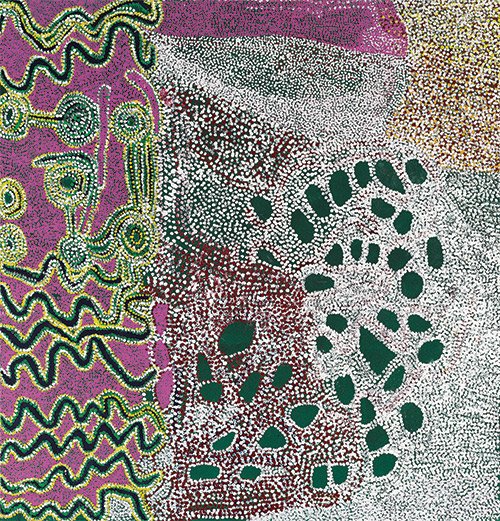 "Everywhen: The Eternal Present in Indigenous Art from Australia," a compelling exhibition on display at the Harvard Art Museums through September 18, presents works of timeless immediacy by original inhabitants of Australia and their contemporary descendants.
Curated by Stephen Gilchrist, an art historian at the University of Sydney, Australia, the exhibition borrows the word "everywhen," from Australian anthropologist William Stanner, who when studying Indigenous people in his country, coined the term to describe their understanding of time as an intertwining of past, present, and future.
The works speak for themselves with their arresting beauty and power. Yet the back stories of individual works as well as the recent development of an Indigenous art community are concisely presented by the show's excellent wall texts and catalogue, which includes images of the works and essays by Gilchrist, its editor, and four other scholars.
Like cliff paintings or cave art, many works on display are universal in their reach across time and geography. Some resemble paintings by Paul Klee, Mark Rothko, Jean Dubuffet, Jackson Pollock and such movements as minimalism and optical art.

Drawn from public and private collections in Australia and the U.S, the exhibition presents more than 70 works, most produced within the last 40 years and shown for the first time outside Australia. Some of the artists represented by this show have exhibited at blockbuster venues such as the Venice Biennale, Documenta and the Istanbul Biennial.
Here, works by both renowned and lesser-known mingle with beguiling traditional objects from Harvard's Peabody Museum of Archaeology and Ethnology and the Metropolitan Museum of Art in New York. Presented side by side with contemporary works, objects usually regarded as anthropological artifacts gain deserved respect as art works too.
Organized not chronologically but instead, by themes — Seasonality, Transformation, Performance and Remembrance — this revelatory show enables viewers to discover the kinship of works old and new and experience the "eternal present" that animates them.
Traditional as well as contemporary alike, they embed the responsiveness of Indigenous people to the natural world that they have inhabited more than 40,000 years. Works evoke seasons and celestial movements and incorporate native pigments and plants.
The first of four galleries focuses on "Seasonality." Three contemporary larrakitj, tall, tubular vessels used to hold the ashes of the dead, are grouped in a stately grove like a stand of birches. Nearby "Yukawa" (2010) is an exquisite bark painting by Djirrirra Wunungmurra that intertwines young branches and leaves. Another by Gulumbu Yunupingu, "Garak IV (The Universe)" (2004) is a spellbinding array of dots and lines that suggest the whirls and eddies of tides and stars.

Interweaving old and new practices, renowned fiber artist Regina Pilawuk Wilson honors what she regards as a lost art in her painting that combines synthetic polymer paint with digital imagery, "Syaw (Fish Net)" (2008). Crisscrossing fine lines over patches of yellow pigment to sugget the movement of a spindle as well as the shape of a water hole, the painting pulses with energy.
Grouped together in a gallery on the theme of "Transformation" are works that evoke shape-shifting ancestors that inhabit the natural world as well as hallowed sites they endow with life-giving forces.