Art of Jazz
The exhibit is on display through May 8 at the Ethelbert Cooper Gallery of African and African-American Art in Harvard Square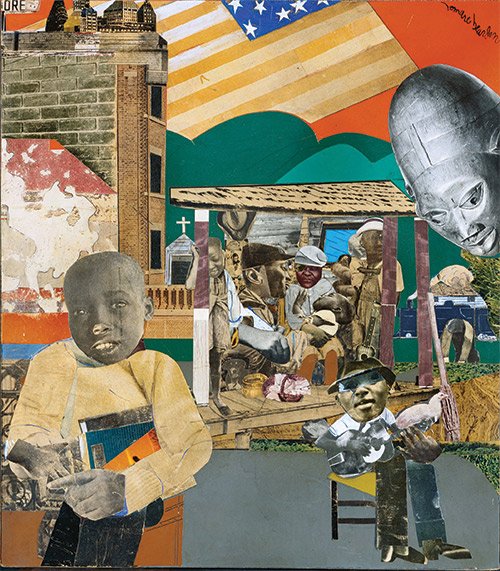 Jazz is a visual experience, particularly in its solos and small combos.
In the sensational, jam-packed show, "Art of Jazz: Form/Performance/Notes," on view through May 8 at the Ethelbert Cooper Gallery of African and African-American Art in Harvard Square, the captivating forms of the instruments themselves are celebrated in an installation by pianist Jason Moran.
Moran arranges an acoustic bass, a drum kit and a piano on a platform while on a video he performs. In between, he converses about jazz and visual art with Vijay Iyer, like him a pianist whose music embodies both the history and future of jazz.
Curated by Harvard art historians Suzanne Preston Blier and David Bindman along with gallery director Vera Grant, the show fills the Cooper Gallery and also extends to a room in the nearby Harvard Art Museums, where a small selection of works on paper and objects are on display. But most of the show resides at the Cooper Gallery, which is open Tuesday through Saturday from 10 to 5 and offers free admission.
In the same room as Moran's installation is a magnificent wall-size mural by Whitfield Lovell, "Servilis" (2006). On interlocked planks, he has drawn a group of African American women wearing aprons. They are seated in a solemn pose like that of a formal portrait of a wealthy European family. Five stuffed black crows stand on pedestals of varying heights in front of the mural.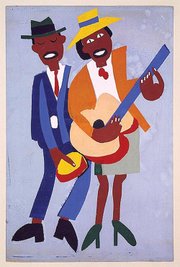 A joyous reunion
Elsewhere in the show is another evocative Lovell installation, "After the Afternoon" (2008), a stack of vintage radios accompanied by mid-'50s recordings. Lovell's works, like the show as a whole, bring the past to life, mingling it with the present — just as a jazz musician echoes the past while creating the new.
What makes this show sensational is the joy of reunion it sparks by bringing together African American visual art and music from the early 20th century through today. Many of the visual works stir the same feelings as the music — the excitement of brass, the consolation of the blues, the joy of swing, the gravity and warmth of lyrical improvisation.
Among the objects on display are album covers by renowned artists. Aaron Douglas, a leading figure in the Harlem Renaissance, created the modernist cover of "The Gold and Blue Album" (1955) for the Fisk Jubilee Singers, with its elegant, elongated figures evoking African statues. Also on view are covers with geometric designs by Bauhaus innovator Joseph Albers and Romare Bearden's vibrant red, yellow and black design for a 1978 album by Donald Byrd, "Thank you for Funking Up My Life."
Promotional posters for films, clubs and stars such as Lena Horne and Josephine Baker stand alongside a large expressionistic portrait in oil by Beauford Delaney entitled, "My Friend James Baldwin" (1966).
Juxtapositions of photographs, books and works on paper inspire improvisation in the viewer, triggering one's own memories of the music and its performers. Hugh Bell's scenes in clubs render the smoky veil of a room as well as the musicians. His portraits include a regal Billie Holiday in a Carnegie Hall dressing room and a sensuous Sarah Vaughan, in a photo that has been reproduced as a postage stamp.