Boston considers more diversified, connected transit future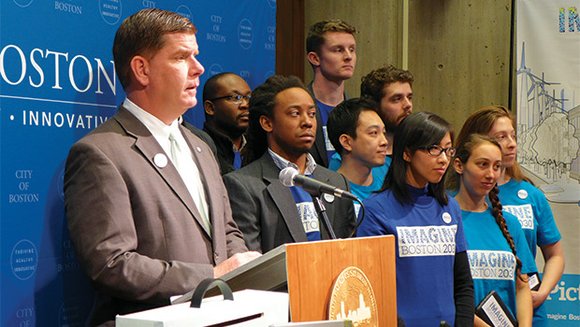 The team behind Imagine Boston 2030 issued a report last week that outlines the four goals that will guide its citywide planning. They are: "provide quality of life in accessible neighborhoods; drive inclusive economic growth; promote a healthy environment and adapt to climate change; and invest in infrastructure, open space and culture."
Woven into all of these is the question of transportation. As the city considers how to further these goals, it will need to make important planning decisions around mobility. The report, "Guiding Growth: Towards an Inclusive City," identifies the need to connect residents with locations of economic or educational opportunities, reduce greenhouse gas emissions and provide reliable transit to all neighborhoods.
"You can bring things closer to where people are living now, bring residential opportunities closer to where jobs and education opportunities are or make it easier to get there through infrastructure investments," said Sara Myerson, executive director of Imagine Boston 2030.
Imagine Boston continues to gather resident feedback and assess needs and wants as it brings greater specificity to its vision. Future actions will involve identifying strategies and funding sources.
Boston's cars
Currently, traffic in the city slows by an average of about 15 percent during peak times, according to a report by Go Boston 2030, a transit-focused planning initiative that is coordinating with Imagine Boston 2030. On highways such as I-93 and Route 1, morning commute slows by as much as 60 percent, the Go Boston report stated.
As Boston grows, managing traffic could become a major concern.
In April 2010, there were approximately 198,000 passenger vehicles registered in Boston, according to a Massachusetts Vehicle Census conducted by the Metropolitan Area Planning Council. This amounts to approximately 0.78 vehicles per household, MAPC Data Services Director Tim Reardon said.
At the same time that Boston's population is growing, the average household size is declining, according to the Walsh administration's "Housing a Changing City: Boston 2030" report. If the vehicle-to-household ratio remains constant, the effect on the roads could be significant. By 2030, the city is expected to have 20 percent more households, according to "Housing a Changing City."
Demand for options
The growing population and household counts could portend a greater crush of cars on the road. But, some said, the city could head this off by facilitating alternative travel options.
"There is a lot of pent-up interest in biking or walking," said Rafael Mares, vice president and director of Healthy Communities and Environmental Justice for the Conservation Law Foundation.
He said that young people have showed lower interest in driving, a trend that could be tapped into if opportunities are provided.
"Fewer and fewer young people are getting driver's licenses," he said.
"Driving is declining faster than Boston is growing," Go Boston 2030's latest report states, adding that individual driving rates dropped 10 percent in the last decade. Goals set forth by Go Boston call for increasing the number of commutes taken by public transit, bicycle and by foot, and halving the number of commuters who drive alone to work.