State calls out 5 Boston schools for disparate & excessive suspensions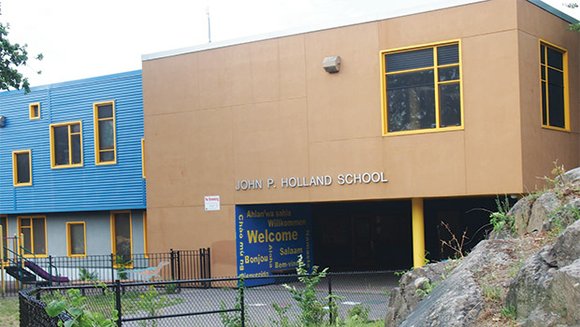 State officials are putting a spotlight on several schools, including four Boston charter schools and one school run by Boston Public Schools, all cited for excessive or inappropriate use of long-term suspensions or expulsions. The state Department of Elementary and Secondary Education identified Roxbury Prepatory Charter School, City on a Hill Charter School in Dudley Square, UP Academy Charter School of Dorchester, UP Academy Charter School of Boston and BPS's Mary Lyon Pilot High School, along with dozens of other schools and districts across the state, as having mishandled discipline in the 2014-2015 school year. This includes handing down such punishment disproportionately to students of color or students with disabilities.
Teams from DESE and all identified schools will come together to examine what drives those disciplinary patterns, identify alternative actions that can be taken before resorting to suspension or expulsion and discern methods for improving school climate, according to a DESE release. Data for 2015-2016 discipline rates are expected to be available by the fall.
Boston's five
On average in the 2014-2015 school years, schools across the state disciplined 1.7 percent of students with out-of-school suspensions for offenses falling into the category of "non-drug, non-violent or non-criminal related," according to DESE data. At UP Academy Dorchester and UP Academy Boston such discipline was given to 11.9 percent of students and 16.5 percent, respectively. At Mary Lyon Pilot High School 13.1 percent of students with such offenses were suspended out of school.
Even more striking: City on a Hill handed such suspensions to 33 percent of students and Roxbury Prep to 38.6 percent. For Roxbury Prep, this represents a decrease: In the 2013-2014 school year, the school suspended out of school 42.7 percent of all students for minor offenses.
Statewide, suspensions are disparate. While one percent of white students received out-of-school suspensions in the 2014-2015 school year for non-violent, non-criminal, non-drug related offenses, that rose to 3.3 percent of Latino students, 3.6 percent of students with disabilities and 4.3 percent of black students. Most dramatically, Roxbury Prep delivered such sentences to 41.7 percent of black students and 55.8 percent students with disabilities, according to DESE data.
Knee jerk suspensions
For months, accounts have surfaced from Boston students and parents about schools where suspension seems to be the instinctive first response to any minor misbehavior.
Khalid, then a sixth grader at UP Academy School of Boston, was suspended for tossing a can out a bus window, after a bully threatened to hurt him if he did not.
"An older kid turned around and said, 'If you don't throw that goddamned can off the bus, I'm going to beat the living crap of out of you'," his mother, Rita Ben-Cherqui, told the Banner. So Khalid complied.
Although a friend on the bus independently backed up Khalid's account, teachers could not locate the bully, Ben-Cherqui said. They slapped Khalid with a three-day suspension instead.
"They could conveniently never find him [the older kid]. So my son had to take the suspension," she said.
Elizabeth McIntyre, an Equal Justice Works Fellow with Greater Boston Legal Services, who represents students in school discipline disputes, has handled cases from all five cited schools.