Megacities
Exhibit on scale features artists from some of world's biggest urban centers
A giant fake flower slowly waves its motorized petals up and down in front of the Huntington Avenue entrance to the Museum of Fine Arts Boston, welcoming visitors to an exhibition focused on scale. On view through July 17, "Megacities Asia" presents 19 works by 11 artists living in some of the world's biggest cities — Beijing and Shanghai in China; Delhi and Mumbai in India; and Seoul in South Korea.
Supersized sculptures and wall-mounted installations suit the show's theme: how artists are responding to the ruptures and changes brought about as towering buildings replace human-scale communities and green space in cities throughout the world.
Over the past five decades, 30 cities have gained populations of more than 10 million, half of them in South and East Asia. This exhibition, the largest show of contemporary artists in the MFA's history, draws upon works from artists living in these regions.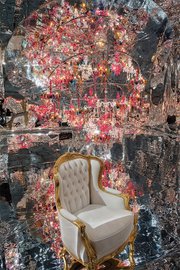 Nine works occupy the museum's largest gallery and six others are installed in sites throughout the museum. Constructed of everyday consumer objects, waste and rubble and large enough to walk in and around, some works inject a fun house atmosphere into the museum, lending a gallery the atmosphere of a carnival midway.
Playful and at times poignant, the works offer a sampling of artists seldom or never before exhibited in the U.S. as well as such established art world figures as Ai Weiwei, 59, of Beijing, an activist as well as an artist who designed China's sensational pavilion for the 2008 Olympics but also endured house arrest for his outspoken criticism of the Beijing government. Here, his "Snake Ceiling" (2009), composed of 350 backpacks, commemorates the thousands of children who died when their flimsy school collapsed in a 2008 earthquake. In the museum's Shapiro Courtyard is his sculpture "Forever" (2003), a whirling spiral of Forever-brand bicycles. Once the vehicle of choice for many city dwellers, they circle around endlessly, a tribute to a lost way of life.
Organized by MFA curators Al Miner and Laura Weinstein, who profile each artist in their highly readable, 110-page catalog and introduce their subject with a fine essay, Megacities is the first large-scale U.S. show to focus on urban growth and how contemporary artists find inspiration and raw materials in the accumulated detritus of large cities. They dedicate their catalog to one of the artists in the show who died last year, Hema Upadhyay (1972-2015) of Mumbai.
Many of the artists revel in plastics, turning mass-production products and rubble into intricately handmade and human-scale works. In their hands, the act of creating art becomes a form of human intervention within a dehumanizing environment.
The seductively pulsing giant flower on the front lawn, entitled "Breathing Flower" (2016), is by Choi Jeong Hwa, 45, of Seoul, who is also responsible for the not-to-be-missed "Chaosmos Mandala" (2016), located in the museum's Asian paintings gallery. Shimmering mylar floors and walls, tinsel chandeliers and gauzy fabrics create a magical space in which a gilded throne awaits visitors who can pose and take photos of each other. On view at Quincy Market near Faneuil Hall is another ebullient work by this artist, "Fruit Tree" (2014), a giant fruit bowl sprouting like foliage from its trunk. Embracing artifice, Choi Jeong Hwa says, "The artificial isn't bad … it comes together with the natural to make our world."