Roxbury's Dudley-Eliot Square seeks state cultural district status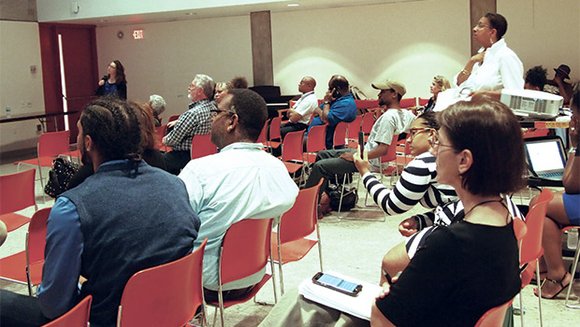 A coalition of Roxbury groups are making a case for a Dudley-Eliot Square Cultural District — a designation they hope will enhance the neighborhood's cultural scene. Cultural district advocates are in the midst of preparing their case, which will culminate with submitting a formal application to the Massachusetts Cultural Council this September. While energy has recently galvanized, the idea of a Roxbury cultural district has been under discussion for more than a decade, Kelley Chunn told the Banner. Chunn is the principal of Kelley Chunn & Associates, which became a consultant on the project this past March.
Securing cultural district status could boost tourism and economic activity, increase residents' awareness of their local offerings, give the neighborhood more control over its narrative and character and ensure that as the development boom plays out, space is kept for the arts, some community members say.
At their third public forum, held at Dudley Library last week, organizers explored some hard questions still to be settled: How does Roxbury want to identify its culture, and, critically, how will a cultural district be governed and financially sustained?
Spearheading the effort to prepare a formal application are Haley House, Madison Park Development Corporation and The American City Coalition. The three groups teamed up in 2015 to join the ongoing discussion and explore practicalities; since then, other organizations have stepped forward in support.
When considering eligibility as a cultural district, the Massachusetts Cultural Council looks for areas with a dense concentration of commercial, arts and historical features in a walkable area. Julie Burros, the city's chief of Arts and Culture, said in a phone interview with the Banner that Boston has no set cultural district model, with its two current ones modeling very different approaches. The Boston Literary Cultural District is organized around a theme and over a large geography, while Fenway Cultural District more focused on highlighting existing cultural assets in a part of the neighborhood. The city works with communities on developing cultural districts.
Economics
Too many of Roxbury's cultural assets remain overlooked by tourists and local Bostonians, thus failing to tap into what could be a significant revenue stream, organizers stated in a November 2015 application to the Catalyst Fund for financial support.
"The area's cultural assets remain relatively unknown to those outside of the neighborhood, and few Bostonians, or the millions of annual domestic and international tourists and business travelers, visit the neighborhood," the application stated.
Burros noted as well that Roxbury in particular has a high concentration of historic sites that are not well known.
"One thing unique to Roxbury is its rich history — it has a lot of historic assets that I would say are in need of higher visibility," she said.
In addition to helping artists, improving the promotion and ease of discovery of what the areas have to offer could increase weekend and evening traffic, boosting patronage of local businesses and increasing the vibrancy of the area for both local residents and visitors, advocates say.