'The Woven Arc' on exhibit at Cooper Gallery through July 16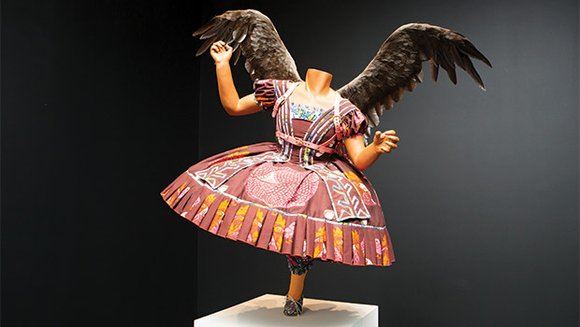 Bursting with compressed energy, Yinka Shonibare's 2010 sculpture "Food Faerie" is poised to take flight from its perch in the lobby of the Ethelbert Cooper Gallery of African & African American Art in Harvard Square. Its child-size, headless brown body is adorned with goose-feather wings and a meticulously crafted dress with matching bloomers. Rooster faces are visible within its folds of Dutch wax printed cotton, a material this British-Nigerian artist often uses as he explores the colonial influence on culture, including the Dutch slave trade and its imprint on "African" fabrics.
The sculpture is among 36 contemporary and traditional works in a fascinating exhibition, "The Woven Arc," on view through July 16th. Curated by Vera Ingrid Grant, gallery director, and British architect David Adjaye, who designed the gallery, the show features works from the Cooper's own collection as well as objects from public and private holdings. Displayed alongside works by living artists are traditional African woven hats, fabrics and beadwork, many selected by Adjaye for the show from the Cooper Hewitt, Smithsonian Design Museum.
Such works are not treated as anthropological specimens, but rather as integral elements in a living family album in this show, which takes as a theme the traditional importance of weaving and textiles in African and African-American culture. Juxtaposing contemporary works of art with traditional handcrafted objects, like other Cooper exhibitions, the show mingles works spanning eras, generations and forms, inviting viewers to discover connections across time and place. Historic objects add depth and gravitas to contemporary pieces and current works cast traditional objects in a new, living light.
Local jewel
Since opening 2014, the Cooper Gallery has paved fresh ground in the region with exhibitions that are compelling both for the caliber of the individual pieces on view and also for the power of these juxtapositions, which offer an extraordinary opportunity to experience African and African American art as a continuum.
Just one quibble: Background information on works and artists would be helpful, either in the form of handouts or wall text.
Improbably wedged between a row of Mount Auburn St. storefronts and a back alley of restaurants, the gallery occupies the ground floor of its host institution, Harvard's Hutchins Center for African & African American Research. Making the most of its street-level space, Adjaye has created a set of versatile, intimate spaces that allows an exhibition to unfold as a series of varied but connected episodes.

Ascending a ramp, the viewer is surrounded on both sides by art. Draping the left wall is Ghanaian sculptor El Anatsui's "Delta" (2014), which with draping folds of cast-off aluminum fragments evokes a contour map. On the opposite wall are six Ndebele ceremonial aprons, 19th century works that are timeless in their bold designs.

The ramp leads to the gallery's next level and its six exhibition spaces. On the right in a corner are three wall hangings. A work by El Anatsui faces a fine Kente prestige cloth, an intricate grid of earth hues.
Between these works is a wall-filling piece entitled "Incidents in the Life of a Slave Girl (after Harriet Jacobs)" (1997) by Tim Rollins and K.O.S. (Kids of Survival), a group that emerged from an art workshop Rollins led in the '70s for troubled South Bronx kids. Jacobs (1813-1897) was born a slave and later became an eminent writer and abolitionist. A row of vertical ribbons pool onto the floor and between them appear texts with such words as "insurrection," "prosecution," and "months of peril."