Report shows Jobs Trust impact
Hundreds served by training programs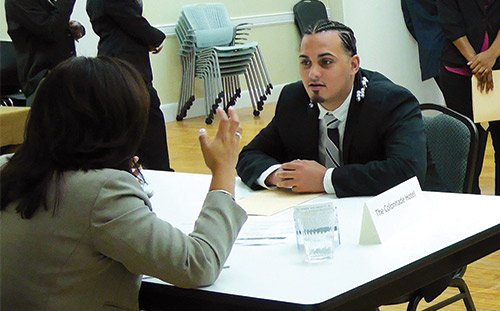 Developer "linkage" fees on large-scale commercial developments in Boston have led to job training and higher incomes for city residents in need, according to a new report from the city's Office of Workforce Development (OWD).
The report documents how the developer-funded Neighborhood Jobs Trust (NJT) in 2015 supported $1 million in training programs for low- and moderate-income residents who face various barriers to employment, including homelessness, CORI issues, lack of college education and English language proficiency.
Of 336 Bostonians served by NJT-funded programs in 2015, 78 percent were black or Latino; 81 percent lacked post-high-school education; and more than half came from the Roxbury, Mattapan or Dorchester neighborhoods. For the 79 percent who have landed jobs so far, the overall average hourly wage is $14.90 per hour — with some jobs paying more than $20 per hour — and 83 percent of the jobs offer employer-provided benefits such as health insurance.
"Our goal is to get people jobs, and good paying jobs," said Vroselyn Benjamin, program and special initiatives coordinator at OWD, which stewards NJT fund disbursement. "Our main mission is to get them into career pathways with living wages and benefits."
The city of Boston's living wage definition rose in mid-2015 to $14.11 from $13.89 per hour, while the Massachusetts minimum hourly wage rose from $9 in 2015 to $10 this year.
NJT-supported training covers a wide range of industries, including health care, hospitality, retail, construction, facilities management, banking and early education.
Benjamin said her office looks for programs that target current growth industries and offer a full complement of services to trainees.
"We want to see actual outcomes and job placement: Do they have employer partnerships, do they teach soft skills, do they provide on-the-job training and mock interviews?" she told the Banner. "And we want to see that they have all the different aspects like recruitment, an intake process and case management."
Pay boost
One of the NJT grantees is BEST Corp., a Boston nonprofit providing training in hospitality industry skills such as hotel housekeeping, banquet serving and culinary work.
While some of BEST's programs focus on the needs of immigrants, including English language skills, its Mel King Empowerment Program serves low-income native-born Boston residents. The hospitality training covers "soft" job skills like professionalism and conflict resolution, "hard" skills including computer skills, and career coaching that includes job shadowing at local hotels. All of this adds up to readiness for hotel jobs that bring decent pay and Local 26 union benefits.
"I came through the door at $19.36 an hour," said Michael Watson, 45, of Dorchester, who started in January at Park Plaza Hotel as a night houseman in the housekeeping department shortly after finishing BEST training. His wage has since been raised to $20.28, with a benefits package worth an additional $9.54 an hour.
"This is a lifetime job," Watson said. "I have dental, health, everything. I'm paying bills and taking care of my family."
BEST Corp. Executive Director Marie Downey said many trainees have struggled previously at $9-per-hour jobs with no benefits and unpredictable schedules. Landing a job in a unionized hotel can more than double their pay and provide stability and benefits.