'Violet' on stage at Boston Center for the Arts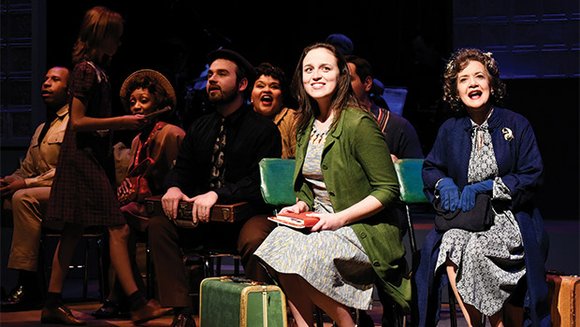 A gem of a show is on stage at the Boston Center for the Arts through February 6: The SpeakEasy Stage Company production of the musical "Violet."
Composed by Jeanine Tesori with lyrics and book by Brian Crawley, "Violet" is inspired by the short story "The Ugliest Pilgrim," by North Carolina author Doris Betts (1932-2012).
First mounted in 1997 as an Off-Broadway production, "Violet" takes place in September 1964. Violet, age 23, travels by bus almost 1,000 miles from her home in the mountain town of Spruce Pine, NC, to Tulsa, OK. Her goal is to seek out a televangelist who she believes will heal her disfigured face, which was scarred when her father's ax blade accidently broke loose and struck her.
Although she is strong, Violet has had more than her share of sorrow. Her mother died when she was a child and her father died three years ago. She longs for a new life.
Accustomed to other kids calling her "Axe-head" and "Freak-face," Violet wants to be scar-free and also covets the full lips and flawless skin of movie stars she admires in magazines.
As fellow passengers and bus drivers meet Violet, they react to her disfigured face with a variety of exclamations such as "oooh," "oh!" and "wow." "I'm a long way from pretty," she acknowledges, but adds that in a few days, she will return a new woman.
In the SpeakEasy production, the audience does not see Violet's scar, only the unmarked, unremarkable, and pleasant face of the actress who plays her — Boston University graduate Alison McCartan, who embodies her character's grit, pain and compassion.
Viewers see Violet as she is, not as she sees herself.
At stops along the way — in Kingsport, Nashville and Memphis and then in the Oklahoma towns of Fort Smith and Tulsa — Violet gradually comes to see herself in a new way.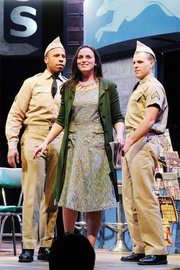 Travelers in time
Violet's bus companions have burdens of their own. The chatty, kind Old Lady is moving into the house of her son, whose rambunctious children are "like squirrels." Among the passengers she befriends are two young soldiers, the manly but introverted Flick, an African American; and Monty, who is white and a self-styled ladies man.
At each stop, Violet's relationships with the men deepen and she comes to a healing give-and-take of a different kind than she sought. Without striking a single false or saccharine note, the production illuminates its true subject: the halting fits and starts with which human love can grow and heal people.
SpeakEasy Artistic Director Paul Daigneault directs the production, which over a fast-moving hour and a half without intermission draws the audience into Violet's world, and does so from the start.
Eric Levenson designed the sleek, slightly surreal art deco set, with its looming Greyhound Bus icon. Transforming the everyday scene of a bus waiting room, the versatile, evocative set lets the audience fill in the details and suits a story that toggles between Violet's present and her flashbacks to a dead father and a younger self.