Berklee College of Music honors Fisk Jubilee Singers with tribute at Symphony Hall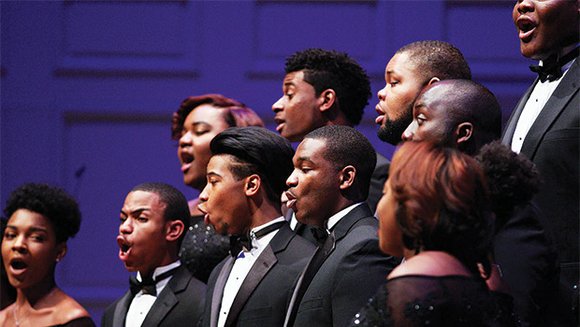 Few colleges can claim as far-reaching a legacy as that of Fisk University, in Nashville, Tennessee. Founded in 1866 at the end of the Civil War, it was one of the nation's first institutions to offer a liberal arts education to "young men and women irrespective of color."
Five years later, the school's pioneering choir, the Fisk Jubilee Singers, brought the hymns of slaves to concert halls throughout the world. By treating their own songs as an art form that could stir audiences everywhere, the ensemble planted the seeds of the still-growing family tree that is African American music, from jazz, gospel and R&B to hip-hop and beyond.
Celebrating this living legacy as well as Fisk's 150th anniversary, Berklee College of Music presented a program of music and readings Sunday evening entitled "The Fisk Jubilee Singers at Symphony Hall: A Tribute by Berklee College of Music."
Featuring the Fisk Jubilee Singers as well as Berklee vocal and instrumental ensembles, the two-hour program drew an audience that included Fisk alumni, friends of Berklee, U.S. Senator Elizabeth Warren and Frank Sims, president of Fisk University.
Between musical performances, Deval Patrick, former Massachusetts governor, and Sara Lawrence-Lightfoot, Harvard professor and Berklee board member, read an account of the choir's historic journey by author Terry E. Carter, Fisk '80. Seven of the singers in the original nine-member choir had been slaves. When Lawrence-Lightfoot read their names, the audience burst into applause.
That first ensemble went on tour to raise funds for their fledgling university. The campus still celebrates their departure date — October 6, 1871 — as Jubilee Day. Despite ordeals, they persisted with their audacious enterprise. In 1872, President Ulysses S. Grant invited them to perform at the White House. In the following year, they traveled to Europe and performed for Queen Victoria. Their earnings helped to finance the first permanent building on the Fisk campus, Jubilee Hall. In its lobby is a floor-to-ceiling portrait of the ensemble, a gift of Queen Victoria.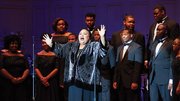 Berklee professor and former Jubilee singer Donna McElroy, Fisk '77, directed the program. Joining the tribute to the Fisk Jubilee Singers was an extended musical family connecting three generations of performers and invoking those of centuries past.
The 40-piece Berklee Jubilee Celebration Orchestra opened the program with a medley of African American spirituals arranged and conducted by Berklee professor Julius P. Williams. Soaring melodic passages glimmered with the orchestra's many voices, including a sea of violins, a big brass section and an extended duo by Joe Galeota, associate professor at Berklee, on djembe drums with Alexis Soto, Berklee '18 on congas.
McElroy, radiant and regal, stepped to the mic and delivered an a cappella rendering of "I Want Jesus to Walk with Me" with prayerful immediacy. Her hands shaped her words as she eyed listeners, drawing all into her dialogue with God. Later, she sang another commanding solo, "Soon-Ah Will Be Done." Pointing to people up in the balconies as well as those seated nearby with both her voice and body, McElroy inspired a clapping, call-and-response bond with the audience.