T fare hike blasted as unequal
Proposal burdens the most vulnerable, many say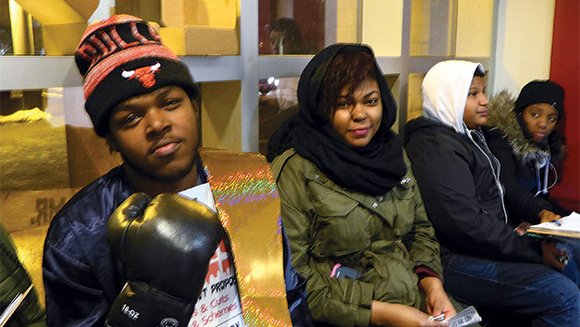 Elected officials, transit activists and city residents slammed the MBTA fiscal management control board's proposed fare raises at a public meeting held last week. They charge that the hikes unequally strike at the most vulnerable — no matter what the MBTA's own equity analysis says.
Time is running down for winning support for an alternative plan. With an operating budget deficit looming, the control board is looking to adopt one of two suggested fare increases to help bridge the gap. Its members are scheduled to vote on March 7, and any fare change expected to be implemented on July 1. The authority closed its period for accepting public comments on the proposals on Feb. 12.
Under the MBTA control board's two suggested plans, fares would rise systemwide by an average of either 6.71 percent or 9.77 percent. Looking at the average may obscure the fact that the pricing upsurge is not distributed evenly: Some kinds of passes would see severe hikes, while Outer Express Bus passes would become significantly cheaper.
At an MBTA Fare Proposal public meeting at Roxbury Community College last week, Rep. Evandro Carvalho said the distribution of price hikes disproportionately burdens minorities, students and seniors. Many officials and residents who spoke out at the meeting added that for those with low and fixed incomes, any extra expense may be too much.
Meanwhile, an equity study commissioned by the MBTA that examined the two fare hike proposals concluded that minorities and low-income riders would not be disproportionately burdened or impacted. The study was conducted by the Central Transportation Planning Staff of the Boston Region Metropolitan Planning Organization.
Added to the mix: Members of the T Riders Union, a public transit advocacy program of Alternatives for Community and Environment, insisted at the event that budgets can be resolved with no change to fares or passes and no service cuts required.
The MBTA's expects its operating budget to fall short by $242 million in fiscal year 2017, and that $7 billion needed for repairs will go unfunded, according to Brian Shortsleeve, the agency's chief administrator.
Any cents too much
What may be a few extra cents per ride amounts to a substantial quality of life burden for those with low-incomes, claimed individuals such as Lynn Dann, community education coordinator for Epilepsy Foundation New England.
"A fare increase would be detrimental to those living with already-challenged monthly income," Dann said during public testimony. She uses a Senior/TAP LinkPass, the cost of which would raise 10.3 percent under either MBTA plan.
For some riders, the higher cost may present a barrier to getting to medical care, Dann said, and she expected to dip into her food budget to cover the extra transit expense.
"It would impact my ability to get healthy food," she told the Banner.
Hakeem Foreman, age 19, graduated high school last year. The cost of a T ride to school was always a consideration on his mind, weighed against the convenience of skipping a 15-20 minute walk in the cold, he said.