Josephine St. Pierre Ruffin: A pioneer in the black women's club movement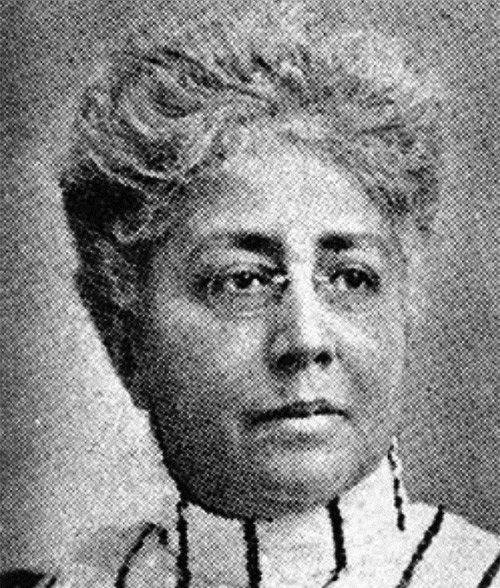 Known as a pioneer in the black women's club movement, journalist, suffragist and civil rights activist, Josephine St. Pierre Ruffin issued the first call for a national convention of African American women and thus laid the groundwork for the eventual formation of the National Association of Colored Women.
Family life
Young Josephine was reared in a home of refinement, culture and comparative luxury. She was born in Boston on August 31, 1842, the sixth of nine children. Her father, John St. Pierre, was a Martiniquais clothier of French, Indian and African ancestry, and her mother, Eliza Mahinnick, was an Englishwoman from Cornwall.
Avoiding the segregated schools of Boston, her parents sent her to public schools in Charlestown and Salem. After Governor Henry J. Gardner signed into law in 1855 a bill outlawing separate schools for black children, she returned to Boston and completed her education at the Bowdoin School on Myrtle Street — a school for girls.
On June 30, 1858, she married George Lewis Ruffin, a barber from Richmond, Virginia. He would become the first African American graduate of Harvard Law School, the first elected to the Boston Common Council, and — years later on November 19, 1883, when he was confirmed as a Charlestown Municipal Court judge — the first African American north of the Mason-Dixon Line to hold a judicial office higher than magistrate.
Immediately after their wedding, the couple set sail for Liverpool, England, intending to raise their children in a country where slavery had been abolished. But they soon returned to America, prepared to take part in the struggle for black freedom. They had five children: Hubert St. Pierre Ruffin, Florida Y. Ruffin, Charles Stanley Ruffin, George Lewis Ruffin Jr., and Robert Ruffin.
Good works
Short in stature and plump, Josephine Ruffin was an intelligent and pragmatic woman. W. E. B. Du Bois described her as "an aristocratic lady, with olive skin and high piled masses of white hair." Another contemporary observer noted that she was thoroughly progressive and always in touch with the spirit of the times. Still another found her to be a "woman of fine personality." He added that she dressed with taste and her presence was stately.
During the Civil War, Ruffin helped to recruit soldiers for the 54th and 55th Massachusetts regiments and volunteered her time working with the U.S. Sanitary Commission, a relief agency that cared for sick and wounded Union soldiers and promoted clean and healthy conditions in the Union Army camps. Moreover, she dedicated her efforts to performing charitable work. In January 1875, for example, she established and headed the West End Relief Association — an organization whose goal was to provide a home to destitute children. And in late April 1879, she helped form and became founding president of the Colored Women's Refugee Aid Society. Its purpose was to offer assistance to poor black refugees fleeing the post-Reconstruction South.
A civic-minded woman, Ruffin held leadership positions in several organizations. On August 13, 1887, she was elected president of the newly formed West End League of the Massachusetts Woman Suffrage Association, and on January 1, 1889, she became an executive committee member of Boston's Colored National League — a non-partisan organization devoted to the welfare of the race.