Italian renaissance books on display at Gardner Museum through January 16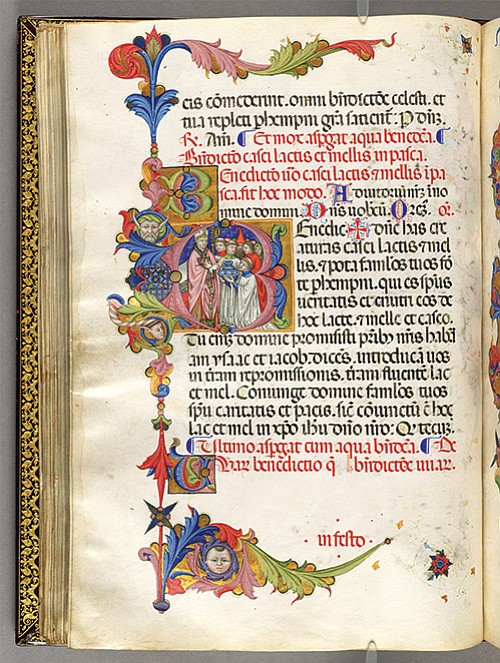 A book can provide a close-up, personal dose of enchantment. Books that combine words and pictures have a special allure. And if they come from another time, they offer a magic carpet ride into another world that may not be so unlike our own.
The appetite for telling stories in picture books may begin with children's stories but plenty of grown-up artists remain entranced, publishing graphic novels and reviving the painstaking craft of hand-made books.
An encounter with such books from 1,000 years ago awaits visitors to the Isabella Stewart Gardner Museum through Jan. 16, in the exhibition "Beyond Words: Italian Renaissance Books."
Viewing a selection of Renaissance-era picture books is a special pleasure at the Gardner, a 15th-century Venetian palazzo on the Fenway with a fragrant courtyard garden and a collection of Renaissance masterpieces on the walls as well in display cases.
The palazzo and its holdings are the personal creation of Isabella Stewart Gardner. She was among the Boston Brahmins whose avid collecting during the 19th century has made Greater Boston colleges, universities and libraries the largest center of Renaissance artworks outside of Europe.
Collaborative exhibition
The Gardner is one of three local institutions to host a collaborative exhibition, 16 years in the making, entitled "Beyond Words: Illuminated Manuscripts in Boston Collections." During the three-month exhibition, the Gardner, Harvard's Houghton Library and Boston College's McMullen Museum of Art, have displayed a total of 260 painted and printed books at their respective sites. Dating from the 8th to 17th centuries, the works were loaned by 16 neighboring institutions, including the Boston Public Library, Wellesley College and the Museum of Fine Arts. A catalog with contributions by 85 scholars accompanies the three simultaneous exhibitions.
Although the installations at the Houghton Library and McMullen Museum closed last week, a web site (http://beyondwords2016.org) will keep this landmark collaboration alive for years to come.
Curated by Anne-Marie Eze, the Gardner exhibition traces the collaboration of Italian humanists and learned clergy in the propagation of books.
Civilization was under siege in the Middle Ages, as the region that was to become Europe was wracked by plagues and invading hordes. Countless scribes in monasteries and convents kept learning alive by copying and illustrating books — the Bible as well as classics of Greek and Roman antiquity — that were to become touchstones of learning, culture and civil society in that era of peace and prosperity within Europe known as the Renaissance.
A sensory experience
Writing in quill pens crafted from birds' wings, with inks ground from plants and minerals on parchments made from animal hides, scribes would then illuminate their pictures and lettering by breathing on stencils hand-cut from sheets of precious metal such as gold leaf. Ivory and gemstones also added glory to Bibles large and small, encrusting the pages with jewel-like embellishments as shimmering as Tiffany lamps.
Mingling pictures of saints and illustrations of parables with earthly images of foliage, fruit, mythical beasts, apes, peacocks and children at play, they created books of worship that Roger S. Wieck describes in the catalog as "a private picture gallery to please the eye and inspire the heart."