Activists protest Santander bank's role in Puerto Rico debt crisis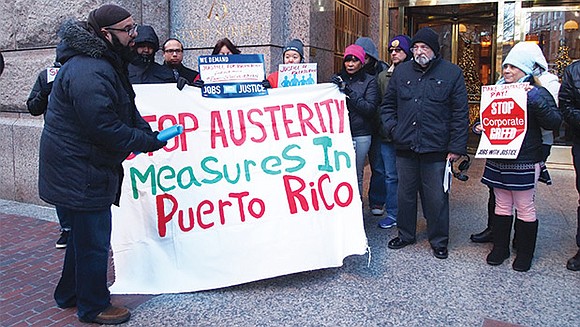 Local activists gathered outside Santander's State Street bank branch in downtown Boston last week to decry the company's role in Puerto Rico's debt crisis. During the demonstration, organized by Massachusetts Jobs with Justice, protestors charged that executives from Santander — a Boston-based bank with a significant dealings in Puerto Rico —not only profiteered off the island's financial turmoil, but also used government positions to push policies that exacerbated it. Worst of all, two of its executives are among the handful of powerful board members granted authority over fixing the crisis.
As Puerto Rico's finances soured and loans began to look difficult to repay, the government issued more bonds to pay off interest on their debts and maintain their credit rating, and then issued bonds to pay off interest on those bonds. Meanwhile, banks like Santander earned high profits for their underwriting services on such bonds, pulling more cash from the depleting public coffers. Demonstrators say it was unethical to pursue such profit at the expense of a distressed government and that a conflict of interest was inherent due to members of government's previous bank executive roles.
For local activists, protesting profit-hungry financiers are nothing new: this fall, they marched outside the headquarters of financial services firm USB for just such practices. But what sets Santander apart — say activists and a new report from Hedge Clippers, a group dedicated to exposing the influence of hedge funds in politics and government — is that for years, high-level members of Santander have moved in and out of powerful positions in Puerto Rico's Government Development Bank. There they shaped economic policy in ways that favored issuing more bonds — and thus bringing more service fees to Santander and its peers. The policy behind such economic maneuvers was shaky, according to a report released from Hedge Clippers last Thursday in collaboration with Committee for Better Banks.
"Santander advised, structured and arranged much of this debt that linked investors eager for tax-free profits with desperate governments that were facing ruin," states the report. "Much of this debt relied on controversial financial engineering, and was underwritten when the bank had conflicted relationships with the government."
From the reports' analysis, it appears Santander and other banks earned about $1 billion in brokering and underwriting fees on 90 debt deals. The debt issued in these deals — $61.2 billion — comprise about 87 percent of the island's outstanding debt. While banks are not expected to work for free, activists argue that such profits are excessive and that the promise of this profit may have partially inspired governmental policy. The fees collected might have gone instead to prop up health care, schools and other public services at a time when the government was struggling to make ends meet, they write.
"Ultimately [they were] benefitting form the fiscal crisis they helped engineer," states the report.
Now that the island's government has failed to make ends meet — with unemployment above 12 percent, half of the residents living in poverty and the United States federal government stepping in — two former Santander executives have been appointed to the seven-member board charged with finding the solution to the debt crisis.