Whittier Street, Roxbury get $30m revitalization grant
Grant to revitalize the area may be among last HUD aid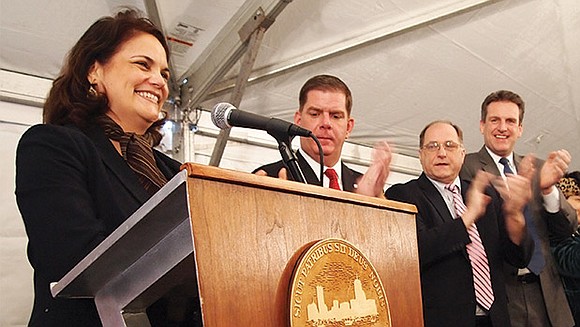 U.S. Housing and Urban Development Deputy Secretary Nani Coloretti was in Boston this week to make a big announcement: $30 million is coming to Roxbury.
Speaking to a packed audience on the Whittier Street public housing complex lawn, Coloretti said the Choice Neighborhoods Implementation Grant aims to revitalize the Whittier Street community and its surrounding Lower Roxbury neighborhood.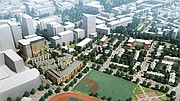 Receipt of the funds means a local development team can move forward on plans to redevelop, upgrade and expand the 210-unit housing complex.
About $21 million of the grant will be designated to housing purposes, while $4.5 million each can be directed to neighborhood activities and initiatives to support youth educational outcomes and intergenerational mobility, Kate Bennett, Boston Housing Authority deputy administrator for planning and sustainability, told the Banner.
Financial support also will go to a variety of initiatives aimed at bolstering educational and economic opportunities in the community as well as health and safety. Under the plan, a further $260 million in public and private funds will be invested in local commercial and residential development and public facilities.
Tail end of federal aid?
U.S. Rep. Mike Capuano, who represents the 7th Congressional District, said the project represents taxpayer money used to uplift citizens.
"This is your tax dollars coming home to do the kind of thing you wanted them to do," Capuano said. "This is your money being reinvested in your community to make your lives better."
Mayor Martin Walsh celebrated the grant as part of President Barack Obama's legacy and said that in housing and other areas, Boston strives to continue Obama's good work.
"We're going to continue to build on his legacy," Walsh said. "No matter what they [the next administration] take apart of what he created, we're going to continue to build in the city of Boston."
The Choice Neighborhoods award represents a significant federal investment at a time when HUD financing has been on the decline and predictions are dim for federal public housing support under the incoming presidential administration.
Capuano warned that important investments in infrastructure, housing and environmental projects require tax revenue. Tax cuts President-elect Donald Trump favors for the wealthy will particularly challenge future revenue generation.
Capuano called upon attendees to make their voices heard and to be politically active for the rest of their lives if and when important programs are threatened.
"I don't want this to be the last celebration we're at," he said.
The Whittier Street plans
The Boston Housing Authority and a joint venture between Madison Park Community Development Corporation and Preservation of Affordable Housing Inc (POAH) will use their share of the HUD grant to redevelop and expand the 200-unit Whittier complex.
The result will be 472 mixed-income townhouses and apartments, with 316 units at the original Whittier site and 156 located on nearby parcels. In addition, the redevelopment will create outdoor spaces, new connecting through-streets and 14,225 square feet of commercial space.
All 210 current public housing units will be rebuilt and will remain affordable to current residents, who earn an average of $14,000 annually. Residents will be relocated during construction and will be guaranteed the right to move back in.