City teachers try to make do with fewer staff, supplies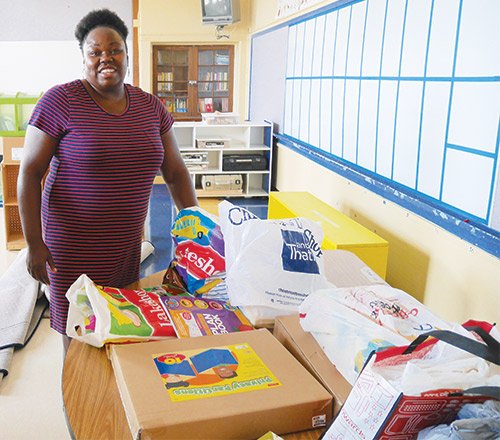 With city pavement still baking under August sun, it may seem early to think of fall clothes, lunch boxes and school supplies. But Boston teachers have been out shopping, seeking to outfit their classrooms and gather everyday supplies that families can't afford and school budgets don't cover.
"Oh my gosh, I've been buying," said Shauntell Dunbar, a first grade teacher at Young Achievers School of Science and Math in Mattapan. "I've already spent more than $500 on just the basics: crayons, dry-erase markers and colored pencils — and I'm not even close to finishing."
Unloading bags of supplies and surveying her classroom earlier this week, she voiced both enthusiasm and worry.
A Boston Public Schools alumna who grew up in Dorchester, Dunbar began teaching at BPS last year, entering the field with years of nonprofit experience and a master's degree in early childhood education with special education certification. She was featured in The Boston Globe twice in her initial year as the embodiment of a hopeful and promising first-year teacher.
Now, in some ways Dunbar has more reason to be nervous than in her first year. Last year she had a fulltime assistant in her classroom; this year, all three first grade rooms will share a single assistant, she said. Last year, the Reading Recovery program brought a specialist who pulled students out for one-to-one help and guided parents in improving reading support at home; now, that help will be available to only half as many students.
"Not having an assistant means less support for kids who really need it," she said. "Now I have to decide how many students I can reach each day. I have to choose when to support this student, and when that one."
Scrimp and save
Sylvaine Lestrade, who teaches second grade at the William Monroe Trotter Innovation School, learned recently that her school will not be providing many of the supplies teachers usually get at the start of the school year.
"So we need to be looking at back-to-school sales," Lestrade said. "Tape, staples, colored pencils, crayons — the basic supplies. I believe I'm going to be asking the parents for things like tissue and hand sanitizer, but every other thing, like pencils, I'll just continue to buy."
Her school will feel budget constraints more deeply this year, she said, and as always, the funding shortage hits vulnerable students hard. She ticked off a list of conditions faced by the Trotter community: "100 percent of our kids have free or reduced lunch eligibility. Some live in motels. Parents are unemployed. Some of the kids suffer from ADHD and other disabilities that we have to focus on."
After a tumultuous period of public discussions, hearings and parent- and student-led protests earlier this year, Mayor Martin Walsh's proposed BPS budget was approved June 29 by the city council. The vote was nine to four, with Tito Jackson, Ayanna Pressley, Annissa Essaibi-George and Andrea Campbell in opposition.