Verizon bringing fiber optic service to Boston
Dudley Sq, Dorchester to be among first service areas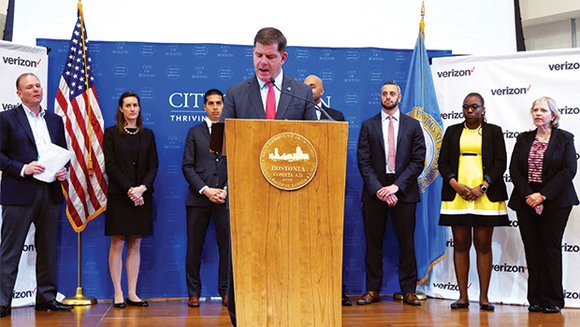 Over the next six years, Boston business and residential consumers will gain a new option for high-speed broadband internet access. Mayor Martin Walsh and Verizon announced last week that Verizon is launching a $300 million effort to replace its copper-based Boston infrastructure with a new fiber optic network.
At a press conference April 12, city officials announced that construction of the new network will begin as early as this summer. The fiber-optic lines will come first to Roxbury's Dudley Square, Dorchester and West Roxbury, followed by Hyde Park, Mattapan, and other areas of Roxbury and Jamaica Plain.
"This will dramatically increase internet speeds for both residents and businesses," said Walsh. "This upgrade brings many benefits to students, to seniors, to small businesses and innovators."
Walsh ticked off additional features Boston can expect, including support for new mobile hotspot lending at libraries and "smart city" technologies such as sensors to improve traffic safety along Massachusetts Avenue. Verizon and city officials emphasized a priority on serving every Boston neighborhood and the benefits of a fast fiber-optic network to small and startup businesses — a growing number of which are locating outside the city's downtown and Seaport districts.
No details were provided on the cost of Verizon's Fios service for households and businesses, just a prediction that increased choice will drive down prices. Currently, Comcast is the only broadband option in most of Boston, with RCN available in a few areas.
A business necessity
Gilad Rozenzweig, executive director of the Roxbury-based startup incubator Smarter in the City, welcomes the prospect of an additional provider and fiber-optic service.
"Fios is coming, and it's coming to Dudley first. That's good," Rosenzweig told the Banner. "Fiber optics will bring much faster internet, which can really help support businesses that rely on the web." And in 2016, that means all businesses, he stressed.
"You can't do anything if you don't have internet working," Rosenzweig said. "It's the number one thing for business, and that's true even for a restaurant or a mom-and-pop store."
Daniel Noyes, co-director of the Boston-based digital equity nonprofit Tech Goes Home, reacted to the Verizon news with cautious enthusiasm.
"It's a really good step forward, but I'm not doing cartwheels in the street yet," he said.
"Competition is important for quality, but also to make it affordable. There are so many people in Boston who have the option for internet access but can't afford it."
Tech Goes Home offers discounted computer hardware, assistance with internet access signup, and neighborhood-based internet use training for people ranging from small children to elders. The vast majority of the families TGH serves are low income, Noyes said, with 75 percent earning less than $25,000 annually, and less than half of those households having internet access at home.
"We're seeing these digital disparities growing, with a whole population being shut out," he said.
Noyes was pleased to hear that Dudley Square would be one of the first areas to get high-speed fiber optic capability.
"I think the mayor's team should be congratulated; I think they see the importance of digital equity," he said. "But I don't think going from one company to two is going to change things overnight."