Harvard leadership acknowledge university's slave history
Yawu Miller | 4/13/2016, 12:23 p.m.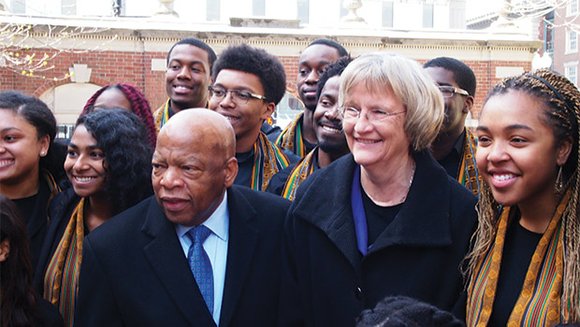 For more than 200 years Titus, Venus, Juba and Bilhah were forgotten to history, their names and the very fact of their existence effectively stricken from the historical record.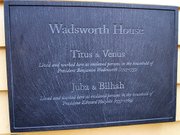 Last week, their names were memorialized in a stone plaque fixed to the exterior wall of Wadsworth House, the home of the Harvard presidents for whom they toiled without pay.
As slaves at the oldest and most prestigious university in the United States, any acknowledgement of their existence would have served as an inconvenient reminder of a history Harvard, Massachusetts and the nation had no interest in promoting — the history of Northern complicity in the institution of slavery. That changed with last week's announcement, attended by Harvard professors, trustees and prominent Bostonians and Cantabrigians.
"Harvard takes pride in this nearly 400 years of history," said President Drew Faust, speaking to the gathering in Lehman Hall. "Today, we acknowledge a different aspect of our past."
Georgia Congressman John Lewis, who attended the ceremony, praised Faust for acknowledging the university's involvement in slavery.
"We have gone to great lengths to wipe out every memory of slavery," said Lewis, whose great-grandfather was a slave. "But for four hundred years, the voices of generations have been calling us to remember."
Following the announcement, Faust, Lewis and the gathering of Harvard luminaries exited the hall to unveil the plaque, affixed to the side of Wadsworth House, a federal style wood frame house that faces Harvard Yard and backs up against Massachusetts Avenue.
The entry of the four slaves into the historical record began in 2007, when four undergraduate students at Harvard began researching the historical connections between Harvard University and slavery. The work of the students, who were supervised by History Professor Sven Beckert, came on the heels of efforts conducted by former Brown University President Ruth Simmons to highlight that university's extensive ties to the trans-Atlantic slave trade.
While Harvard's connection to slavery does not appear to have been as extensive as Brown's ties, Beckert and his students found that the links were interwoven with the history of slavery in Massachusetts. Harvard students, professors and presidents owned slaves beginning as early as 1639, when schoolmaster Nathaniel Eaton relied on the labor of an African his wife referred to as the "Moor."
In the 17th and 18th century New England, many wealthy colonists owned slaves. Cotton Mather, a 1678 Harvard graduate and prominent Boston theologian, was given a slave by his congregation, noted Harvard Professor Evelyn Brooks Higginbotham.
"Slavery was an everyday reality," she said.
The black slate plaque, which faces Harvard Yard, is understated, with the name "Wadsworth House" inscribed in large letters at the top. Below are the names of slaves and masters: "Titus & Venus lived and worked here as enslaved persons in the household of President Benjamin Wadsworth (1725- 1737) Juba and Bilhah lived and worked here as enslaved persons in the household of President Edward Holyoke (1737-1769)."
Harvard Professor Orlando Patterson, who has written extensively on slavery in the United States, said the university's public acknowledgement of slave-holding presidents is an important step.