Trailblazing entrepreneurs
Venture Café probes challenges to women in tech field
For the past two weeks, Venture Café has helped Boston tackle the tough challenge of creating the conditions to foster the growth of woman entrepreneurs, with the ultimate conclusion to start young and promote interest in business, technology and science, as well as a push the local innovation community to be more inclusive.
It is a strong rallying cry, especially in a tech industry that often features convenings where any women present are likely to be the only ones amidst a sea of mostly male faces.
But this certainly wasn't the case the past two Thursdays at the Roxbury Innovation Center and the Cambridge Innovation Center during Venture Café's "A Night with Female Founders." The events featured women entrepreneurs who are on the front line of advancing equal opportunity for the next generation of women in business, talking about their success, opening the door for mentorship and critically examining the future.
Both nights were centered around the "Empowering the Next Generation of Innovators," panel with organizers bringing in an audience of female high school students from Roxbury and Cambridge.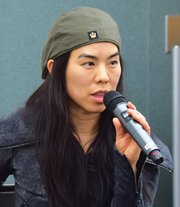 Dispelling stereotypes
The panel featured moderator Vicky Wu Davis, executive director of Youth Cities; Aarathi Balijepalli, Advancing Women in the Enterprise of Science & Technology organizer and science grant writer at Northeastern University; Allison Cox, director of Upward Bound Math Science program; Danielle Olson, founder of Gique; and Maya Nitzberg, development and communications coordinator for the Possible Project.
All the women have a background in science or technology or the startup world and now all work for organizations pushing Science, Technology Engineering and Math (STEM) education in communities of color and to female students.
At the second of the two events, in Cambridge on March 31, Wu Davis, a veteran gaming industry engineer and startup founder, emphasized that a key to developing future women entrepreneurs is teaching the intersection between science, technology and business.
"Usually when you think of STEM you might think of tech geeks in a dark basement or maybe with test tubes or something else, if you don't think of the tech geeks, and entrepreneurs are often thought of as money-hungry, old rich guys. But, no, that couldn't be farther from the truth," Wu Davis said. "STEM and innovation entrepreneurship, they go hand-and-hand."
For Wu Davis, it is a big mistake to think otherwise.
"Both are creators, both make impact and both skills are very valuable to be able to impact the future, be a next-generation leader and create things," she added.
MIT engineering graduate Olson, whose Gique promotes STEM education among programs at the Boys & Girls Clubs of Dorchester among other activities, said she was slow to warm to science and technology because she thought it wasn't creative enough. But she learned better and makes it her mission now to emphasize the creativity of science and technology, which she believes opens the door to more females entering the fields.
"I realized what a creative field engineering was and I fell in love with it," Olson said. "In STEM I was so creative. If anything, I was gaining more skills and more tools in order to express myself and try to change the world and rebuild it to make it better."