Life at ground zero in Boston's class war
Chinatown being squeezed by luxury highrises
Yawu Miller | 9/30/2015, 10:49 a.m.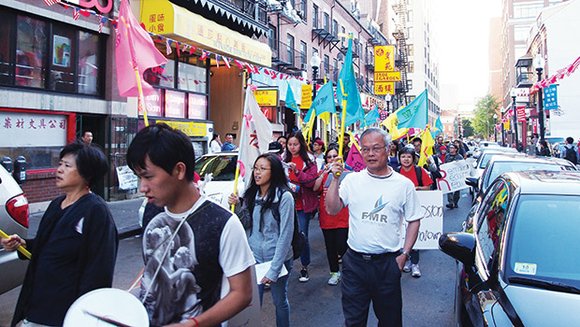 Walking through the shadows of the brick row houses that for decades have housed Chinatown's low-income residents, several dozen protesters carry signs and brightly colored banners with the words that make up the Right to the City's slogan: "remain, reclaim, re-build our community."
In the row houses, struggling families are seeing their rents double and triple, as well-heeled professionals seeking proximity to their downtown jobs rediscover city living. Looming above the warren of narrow streets are new steel-and-glass luxury towers, including the Millennium with its $37.5 million 60th floor penthouse.
The struggling Chinatown residents, many of whom earn $20,000 a year working long hours in the local restaurants, stand in stark contrast to the mostly-white professional class that is encroaching on their neighborhood from all sides. If Boston — as the Boston Foundation's Indicators Report points out — has the third highest rate of income inequality, Chinatown is ground zero.
"Chinatown is really a community of the very rich and the very poor now," says Lydia Lowe, executive director of the Chinese Progressive organization, which led last week's demonstration.
It's pointless to talk about the median income in Chinatown, where Lowe says families double up in small apartments to afford the $1,200 to $2,000 a month in rent for unimproved apartments, while well-heeled professionals, entrepreneurs and executives pay $950,000 on average for condos in and around Chinatown.
Boston's working-class residents are caught in a squeeze, with wages stagnating while rents and other costs of living are rising rapidly. The median yearly income of the bottom 20 percent of Boston earners increased by just $930 or 14 percent, according to the Boston Foundation's Indicators Report. At the same time, the top 20 percent of earners saw their incomes rise 40 percent — $63,000 on average.
While low-income city residents have the possibility of obtaining affordable housing in Boston, though the wait for a unit can be as long as six years, middle income renters have been forced out of gentrified neighborhoods like the South End, Jamaica Plain and South Boston.
They may not be coming back. Of the 14,000 people who moved to Boston between 2008 and 2013, nearly half reported incomes of less than $10,000, according to the Indicators report. And while 40 percent of the new arrivals reported incomes higher than $100,000, the number of households in Boston earning between $25,000 and $100,000 declined by a thousand, a shift the Indicators report says is indicative of a "hollowing out of the middle class."
Curbing gentrification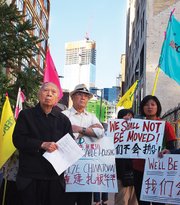 In Chinatown, the demonstrators issued a set of demands aimed at protecting working-class residents from displacement, urging the city to reserve the few remaining parcels of publicly-owned land in Chinatown for affordable housing and a Chinatown branch of the Boston Public Library. The activists are also calling on the City Council to pass a proposed ordinance that would place restrictions on no-fault evictions, which landlords often use to displace tenants paying low rents.
The Chinese Progressive Association also is part of the Raise Up Massachusetts coalition, a group advocating an amendment to the Massachusetts Constitution that would establish a higher tax rate on all income over $1 million. Under the amendment, which will require a statewide ballot initiative and two successive votes with at least 50 of the 160 legislators' support, the tax rate will move from 5 percent to 9 percent for every dollar earned over $1 million. With 14,000 Massachusetts residents earning over $1 million, organizers estimate the amendment would raise $1.5 billion, which the law would require the Legislature to spend on education and the state's transportation infrastructure — public transportation and roads and bridges.