Focus on sustainable food
Festival highlights progress in Boston's local food economy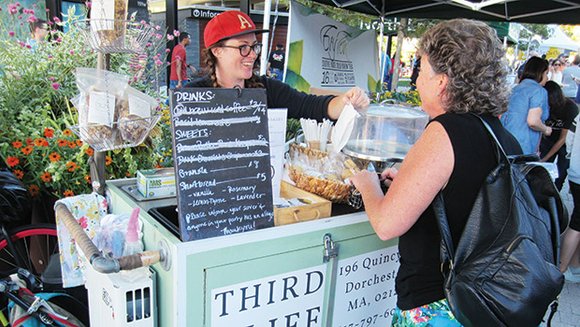 Owners of many of Boston's up-and-coming new food businesses turned up to showcase their fare on Sept. 20 for the sixth annual Boston Local Food Festival on the Rose F. Kennedy Greenway. Neighborhood food startups relished the attention from an estimated 50,000 visitors who roamed and grazed through the food festival's array of stalls and tents.
Many also saw a great way to connect with the growing sustainable food movement.
The festival, which featured farmers, local restaurants, food trucks, specialty food producers and organizations that focus on healthy food, was organized by the Sustainable Business Network of Massachusetts. The Cambridge-based organization, formed more than 25 years ago, links together companies that have helped define what it means to be a sustainable business, in an effort to build a stronger local economy through a network of environmentally and socially conscious businesses.
In the food industry, sustainability means an emphasis on using and buying locally grown products, support of local companies selling or cooking these foods and fair wages and trade practices that benefit the local economy.
Food festival attendees were able to soak up the sun on a beautiful fall day along with the sights and smells of some of the region's best local food, and the event gave off a clear impression that the region can support and thrive with a sustainable local food economy.
The food festival also helps the Sustainable Business Network and Food Solutions New England push their "50 by 60" food vision for the region. Backed by a 2014 report, "A New England Food Vision," the vision calls for New England to build the capacity for healthy food for all its residents, sustainable farming and fishing, and thriving local food businesses, while producing 50 percent of the region's food by 2060. The report proposes changes in food production, distribution and consumption in order to achieve this goal.
Many of the small food businesses at the Boston Local Food Festival are already leading the charge.
Dorchester-based food startup incubator CommonWealth Kitchen was well-represented, with many of the businesses that use its Dorchester and Jamaica Plain kitchen facilities filling display tables at the festival.
One such business was Third Cliff Bakery, which parked its "food trike," a portable selling unit pushed by a bicycle, along one corner of the pathway on the Kennedy Greenway. Owner Meg Crowley said the event was the largest she had attended, and that she was thrilled to get so many new people to try Third Cliff Bakery's shortbread cookies and baked goods.
She said sustainability and the local food economy were foremost on her mind in starting her one-year-old business.
"One of the reasons I decided to do a food trike versus a food truck was because it has a smaller footprint," she said.
Crowley also noted she makes a point to use all local ingredients in her baked goods and supports any efforts to help other small local food businesses do the same.
Hyde Park resident Tia Jackson seemed to be a hit with the foodie crowd, showcasing the mouthwatering goods of Tia's Cakes & Pastries.