Election reveals challenges for new commissioner
Yawu Miller | 9/23/2015, 10:29 a.m.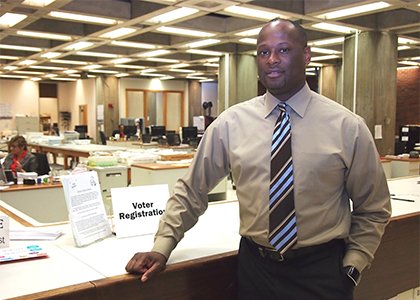 The fiasco of the Sept. 8, 2015 preliminary election was set in stone months before Dion Irish was named the city's election commissioner. Just 7 percent of registered voters turned out for the preliminary, held on a sweltering, star-crossed Tuesday, earlier than typical fall elections and coinciding with both the first day of school and the day after the long Labor Day weekend.
Irish understands that dealing with the aftermath of the preliminary is now his responsibility.
"When you're in government, particularly in the department head role, you're in the hot seat," he said. "We have to do everything we can to make sure nothing goes wrong."
In hindsight, Irish says the Election Department may revisit its policy of allowing the Boston City Council to determine the date of elections when there's a conflict with the normal schedule. (This year, the Jewish holiday of Yom Kippur falls on the third Tuesday of September, the day the preliminary would normally be held).
But ultimately, Irish says, much of the blame for low turnout falls on voter apathy.
"We have a right to vote, but we should also look at is as a duty," he said. "It's bigger than the candidates. It's about how we govern. We're in a participatory democracy. Voting makes democracy stronger."
Irish, who grew up in Roxbury, got his start in city government working with the Inspectional Services Department, before moving on to head the city's Office of Fair Housing and Equity. At the Election Commission, he succeeds interim Commissioner John Donovan, who retired.
The disappointing turnout of Sept. 8 underscores the challenges Irish faces. The city has seen a long, steady decline in turnout for municipal elections. Just 31 percent of registered voters cast ballots in the 2013 municipal preliminary, despite a field of 12 candidates for mayor and 20 candidates for at-large City Council seats. In the November election that year, just 38 percent of registered voters cast ballots.
Moving forward, Irish points to two developments that may help boost turnout and make voting easier.
In next year's state election, when voters elect their state representatives and senators, Boston and the other 350 cities and towns in Massachusetts will implement early voting, allowing voters to cast ballots starting 11 days before Election Day. While Boston hasn't ironed out the details – mainly, whether locations other than City Hall will be open for balloting – Irish says the reform will make it easier to vote.
"We're very excited about this," he said. "It will make voting more accessible by not limiting it to one day."
MassVOTE Executive Director Cheryl Clyburn Crawford, who headed efforts to institute early voting and other reforms, says the details of how the voting program is implemented are important.
"So far, there are no provisions for early hours or weekend hours," she said. "In Boston, we should be looking at locations where people can vote after work, like libraries or community centers."
The second reform, which is less certain, is the re-drawing of the city's precinct lines. All Massachusetts cities and towns are required to re-draw the lines of voting precincts every ten years, as data from the decennial U.S. Census is made available. All precincts in a municipality are intended to have roughly the same number of voters.