Photographer and jazz artist strives to give 'moment of joy'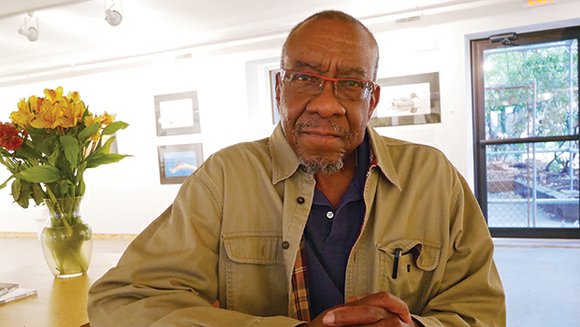 "Eyes With Wings," the title of Arni Cheatham's photography exhibit at the Piano Craft Gallery, is a metaphor for birds and their superior visual acuity — and also reflects the artist's approach. Out in nature with a camera, he lets his own eyes "take wing" and then works to share the joyous experience through photographs.
A long-time jazz saxophonist too, Cheatham will be honored Nov. 17 at Hibernian Hall's "Sparks for Arts" gala with a Community Catalyst Award for his long tenure as a Roxbury-based jazz musician and music educator.
Cheatham spoke with the Banner in the gallery recently about his current exhibit and about life as an artist.
Of all the subjects out there, why do you photograph nature?
Arni Cheatham: I do have other types of images — I do a little street photography, and a little bit of abstract stuff. But when I'm in nature, I'm meditating. I place myself in nature and realize I'm just a small part of the entire world that we live in. It's good to be in that place. There are a lot of people you run into that are very self-impressed, like, 'I know it all.' You get out in nature and hang for a while and realize, no, you don't know anything!
Do you find nature within the city or do you travel for it?
AC: Well, I don't have a large budget. The images in this show include a red-tailed hawk in Mount Auburn Cemetery ... a pintail duck right behind Chestnut Hill Mall ... a tulip on Newbury Street. Ninety percent of the time I go out the door, I have a camera with me. There have been longer journeys. The puffins were way up in Maine, spitting distance from the Canadian border. There are two here from Savannah, Georgia. I have a series that I haven't printed yet from the Pacific Northwest.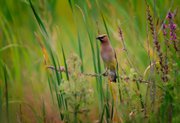 Talk about your craft – how do you create these images?
AC: You have to be willing to be patient. Getting that shot [of birds on the beach] at Plum Island took maybe six minutes — but I was out there all day to get that six minutes. Patience is your tool. You have to expect that something good might happen, but even if it doesn't, just be there.
Birds have a 30-foot fear circle. You get inside that, they get nervous. First they'll turn their back to you. And then they'll fly. But if you get low, you're less threatening. If you're very still, they'll come up to 15 feet from you. When you lie down on the ground and 'be the bird,' it's a whole different experience — you see the amount of energy it takes them to feed themselves, the running back and forth. A wave comes in, and they run, and the wave goes out, and they go running back and pick up little bits of food.
I'm often asked about camera type, which is 100 percent irrelevant. It's not about the box, but the person behind the box. What's more important is my tripod. No matter how stable you think you are, you're going to [shake]. I embraced digital photography in 2003 or so. For bird photography, you have to shoot a lot of images. Birds don't stay still. So economically, I couldn't do the amount of bird photography I do using film.