City seeking transportation solutions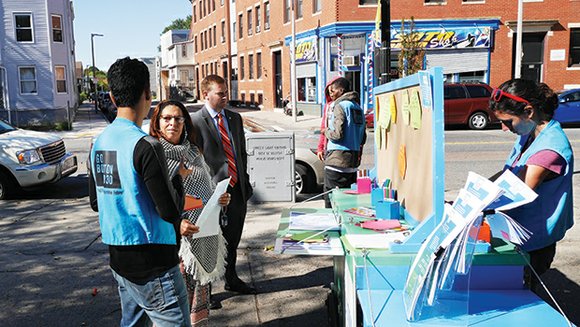 How will Bostonians get to work and move around the city in the future? Looking ahead to 2030, how might transportation improvements address challenges already evident today — a growing, diversifying and aging city population, increasing income inequality, congested streets and an overburdened public transit system?
The City of Boston has been pondering these questions, with the help of an advisory group and public input from thousands of Hub residents and workers, for much of 2015. Last week, its "Go Boston 2030" initiative reached an interim milestone as Mayor Martin Walsh and the Boston Transportation Department released a report outlining a vision and goals.
The "Go Boston 2030 Vision Framework" report sketches out the state of jobs, income and commuting in Boston and lays out goals under several themes, including access, affordability, safety and reliability.
For access, the larger vision includes a "seamless, convenient, and easy to navigate" system in which "quality jobs, educational opportunities, healthy food, and cultural facilities will be accessible from every community." An "aspirational target" is that by 2030, every Boston home will be within a 10-minute walk of a rail or key bus route, Hubway station and car-share. Today, that combination of amenities exists for less than half of the city's households.
Early action projects include new connections between the city's green spaces, traffic calming measures to improve pedestrian and bicycle safety and "intelligent" parking meters that accept multiple forms of payment and collect data to inform parking policies.
A call to be visionary
The Go Boston 2030 initiative's Mayoral Advisory Committee was co-chaired by state Rep. Russell Holmes, whose district includes parts of Dorchester, Hyde Park, Jamaica Plain, Mattapan and Roslindale, and Rick Dimino, president and CEO of A Better City, a Greater Boston independent business and institutional membership organization focused on transportation, land development and environmental policies.
"We had a long discussion, thinking about what's practical versus setting the stage to be aspirational," said Dimino, who formerly served as Boston's transportation commissioner and is on the Metropolitan Area Planning Council's executive committee. "We knew that, in being aspirational, we might raise some eyebrows. But I'd rather think big and long, and the mayor thought that was important, too. Near-term actions should be in the context of a larger idea."
Holmes said the committee's work involved addressing the needs of every stakeholder, from commuters to walkers, bikers and people with disabilities.
"The walkers would point out that walking is free, but then the disabled folks would say, 'but that's not so easy for us,'" he said.
But the biggest challenge, Holmes noted, is that the city of Boston does not have control over every piece of the transportation puzzle.
"The city does not manage the T or the commuter rail," he said. "So when we create a report that involves state and federal agencies, how do we as a city force that to happen? This is a vision we have for the city, and we need all these players to be involved."
Neighborhood participation