Foundations seeking solutions to high cost of new affordable housing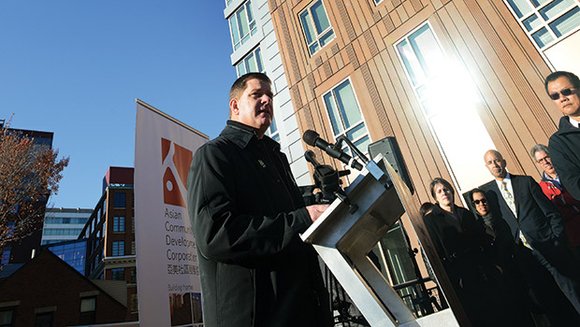 A Boston-based private funder collaborative has launched a competition for innovative strategies to increase the supply of permanent affordable housing for the lowest-income Massachusetts families.
In the competition, announced at the Massachusetts State House Nov. 19, Home Funders plans to offer cash awards of $10,000 to $25,000 to organizations or teams that propose "well-crafted, innovative, feasible and sustainable" solutions to build or preserve housing for Extremely Low Income families.
Affordable housing often means units designated for households earning 50 to 80 percent of the Area Median Income defined by the federal Department of Housing and Urban Development (HUD). Extremely Low Income, or "ELI," refers to 0 to 30 percent of AMI. People in this income range are often homeless or struggling on the brink of homelessness. Statewide, a family of four with income at or below $26,250 falls in the ELI category; for a Greater Boston area family of four, the figure is $29,550.
To put these numbers in context, an individual head of household earning Massachusetts' minimum hourly wage of $9 earns just $18,720 in 52 week of full time work.
"We have an overall housing shortage, and housing for those at the lower end of the [income] spectrum is particularly scarce," said Home Funders Executive Director Soni Gupta. "For every one family in shelter, there are four on the verge of homelessness. They have to survive by doubling up, or moving constantly or living in substandard housing."
Some state programs exist now to increase deeply affordable housing, such as the Supportive Housing Initiative and the Housing Stabilization Trust Fund for special needs households, Gupta said. In addition, housing developers using state tax credits for low income housing must set aside 10 percent of units for ELI households. But the required ELI units do not specifically have to be built for families, and the family need is urgent.
"All other interventions of are of no use if a family is not stably housed. In order for them to break out of the cycle of poverty and instability, housing is a critical component," Gupta stressed. "It's important to realize these are children, going through a lot of upheaval. As a society, we need to do better. We have a role to play and we need to do more."
Affordability gap
A 2015 report by the D.C.-based Urban Institute, "The Housing Affordability Gap for Extremely Low-Income Renters in 2013," paints a bleak picture of the widening gap between an increasing number of ELI renter households and the low number of adequate, affordable rental units available to them. While the number of HUD-assisted housing units increased slightly between 2000 and 2013, the number of non-assisted affordably-priced units fell, from 16 for every 100 ELI renters nationally in 2000 to only 5 per 100 in 2013.
On the other hand, the Urban Institute report puts Suffolk County (which includes Boston) at the top among large U.S. counties for its number of ELI-affordable units. Even so, Suffolk County in 2013 had only 51 appropriate units available for every 100 ELI renters in need. The report notes that Boston and other cities that have made progress in closing the "affordability gap" face an increase in needy households that can outpace increased housing.