The best burgers: Roasted garlic turkey burgers
Mark Boughton | 11/7/2015, 6 a.m.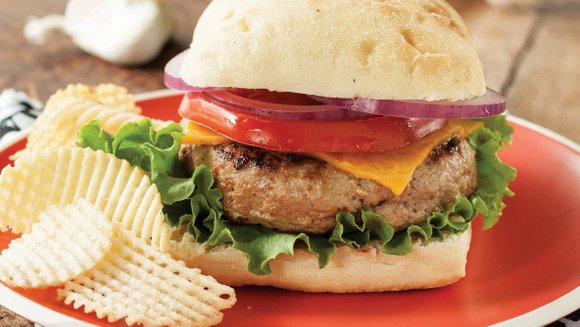 When roasted, a head of garlic is transformed into a buttery, sweet purée that you can stir into soups, dips, or meat mixtures. In this recipe it takes turkey burgers from the ordinary to the sublime.
Here's how to roast it: Preheat the oven to 325 degrees Fahrenheit. Cut the top off a garlic head off so that the cloves are exposed. Drizzle a bit of olive oil over the exposed cloves. Wrap tightly in aluminum foil. Place on a baking sheet. Roast 1 hour. Let cool 5 minutes. Remove the foil and squeeze the garlic head to release the roasted cloves. Store in a glass jar in the refrigerator up to 1 week.
Roasted Garlic Turkey Burgers
1 pound ground turkey (a mixture of white and dark meat)
Cloves from 1 head roasted garlic, mashed
2 teaspoons Worcestershire sauce
2 teaspoons tamari or soy sauce
1 to 2 sprigs fresh thyme, stemmed
½ teaspoon crushed red pepper
1 egg, beaten (use half)
¼ cup dry bread crumbs
2 tablespoons vegetable oil
1 onion, thinly sliced
4 slices Cheddar cheese
4 ciabatta buns
Place turkey in a medium bowl; add garlic, Worcestershire, tamari, thyme and crushed red pepper. Mix well. Add half the beaten egg, discarding the rest. Add breadcrumbs and combine well. Form into 4 patties.
Heat oil in a large sauté pan over medium-high heat. Add turkey patties and cook about 5 minutes per side, until thoroughly cooked. Place cheese on burgers while cooking the second side. Place each on a ciabatta bun. Garnish burgers with lettuce, tomato slices and your favorite condiments. Serves 4.
— Mark Boughton; Photography/styling by Teresa Blackburn.