For senior homeowners, repair costs loom large
Aging housing stock and fixed incomes leave Boston seniors vulnerable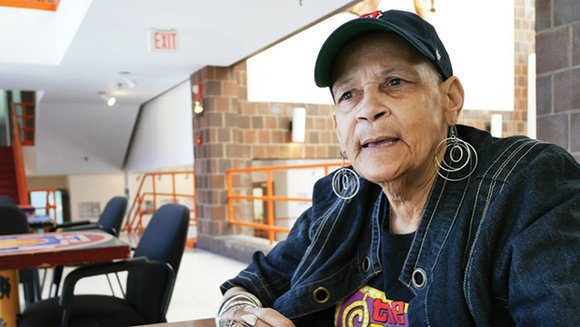 Seventy-year-old Roxbury homeowner Joanne C. counts her blessings. Her husband George is homebound with chronic obstructive pulmonary disease, but she is thankful neither of them needs a lot of costly medications. Her grown son and George's grown daughter can lend a hand on occasion, freeing Joanne to go to church or join with other seniors at AARP meetings and local recreation centers. She still drives. Most important, the mortgage on the house she purchased 31 years ago is paid in full.
Yet Joanne (who prefers her full name not be used) worries every day. Her modest house, crowded with photos and mementos, was built in 1900 and is showing its age. It needs a slew of repairs that she can ill afford.
"We don't have any money," she said. "Some people may think we have 401(k)s and money in the bank. We don't."
A home in distress
On a still-wintry April day, Joanne showed a reporter some of the problems: unstable porches with missing railings; a broken faucet; leaky windows; a baseboard heating system that has to be cranked to 85 degrees to keep her bedroom livable, while the temperature soars on the little-used third floor.
A first-floor rental unit once provided extra income. Now the unit has been pulled into service as an accessible living area for George, who is 94 and increasingly immobile. Joanne moved a bed downstairs for him after she had to summon an ambulance one day when he couldn't make it up the stairs.
"When we first moved here, my husband was younger, and healthy," she said. "He did all the painting, built a little back porch. He could do things. Now he can't help me do anything."
Aging homes, aging population
Traditional wisdom says home ownership provides economic security in old age, but as the senior population swells, repair costs rise and more people enter retirement saddled by debt, many elders find themselves "house-rich but cash-poor," unable to keep up with repairs or adapt the home to be safe for frailer bodies.
In older cities like Boston, aging housing stock is part of the problem, especially in lower-income neighborhoods not spruced up by gentrification. And the recent recession took a toll on home upkeep nationally. According to the Harvard Joint Center for Housing Studies, the number of moderately or severely inadequate homes in the U.S. increased by 7 percent between 2007 and 2011, reversing a trend of improvement.
The city's Boston 2030 housing report issued last fall estimates that while many older Boston homeowners have adequate funds to cover costs, about 4,000 low-income older homeowners currently face significant financial challenges in home upkeep, utilities and taxes.
With the first of the large Baby Boom generation well into traditional retirement age, the U.S. older adult population is growing rapidly, with the U.S. Census projecting a 60 percent increase in those 65 and older between 2014 and 2030. In Boston, seniors are the fastest-growing population segment, with the city set to gain 22,500 senior households between 2010 and 2030.