Entrepreneur bottles family recipes
Makomas draws on founder's Ivory Coast heritage, makes headway with local retailers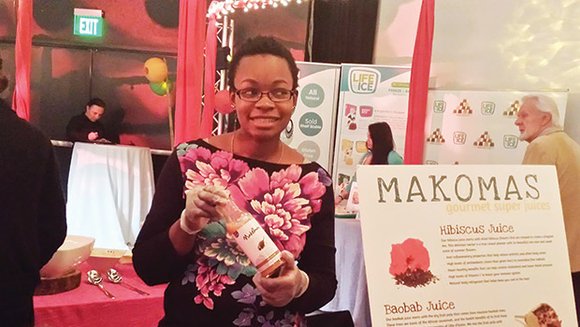 Magbè Savané came to the United States from the Ivory Coast with dreams of being a doctor, but life intervened — she got married and felt the urge to start a family, so she did. However, her desire to pursue a career remained and she turned to a family juice-making tradition to start her own business.
Founded late last year, her company Makomas makes three traditional juice drinks that harken back to Savané's youth in Africa: Ginger Drink, Baobab Drink and Hibiscus Tea. Her mother sold similar beverages in small plastic bags to neighbors and town folk. As a child Savané helped her mother hand-make the drinks using all-natural and simple ingredients. The 30-year-old recalls these days fondly and said juice-making immediately popped to mind when she was considering starting her own business.
Despite being an ocean away, Savané is insistent on replicating the simple, traditional juice products she made with her mother back home. Makomas' drinks use organic West African fruits, flowers and roots. They are crafted in small batches by Savané herself, and you won't be puzzled by any of the ingredients on the list.
Each drink has three ingredients or fewer, in addition to water. Ginger Drink, for example, is water, organic ginger, organic cane sugar and organic lemon. Hibiscus Tea has even less in it, just water, organic hibiscus tea and organic cane sugar.
In the U.S, as the clamor for organic and natural products continues to rise, Makomas has already struck a nerve with its simplicity. Savané may just be following the old family recipe for her drinks — and not trying to capitalize on a consumer trend by going organic — but she will certainly take the benefits.
Namely, in January of this year, after just a few months of making juice, she was able to get products into Whole Foods Market stores around Boston. She is in over half a dozen Whole Foods and working to get in more.
The store is a perfect fit for her juices.
"They like the product. They like the story behind it. And they wanted the product in their store," Savané said.
She has also hit the streets to get the product in other independent stores such as Cambridge Naturals in Cambridge, Mennab Gift Shop in Roxbury, Living Earth in Worcester and even as far away as River Valley Market in Northampton.
An educated start
A 2010 graduate of Colby Sawyer College, Savané focused her education on the sciences to prepare for medical school. When she began to think about starting a business she took advantage of programs in the Boston area that help entrepreneurs. In particular, she said she benefited from taking some classes at the Center for Women & Enterprise to help hone her business skills.
Because she runs a one-woman operation, Savané's business training has been very helpful, offering critical insight into sales, marketing and back-end-operations.
The juice production education was provided by her mother, but Savané runs Makomas out of her Revere home and she travels to a production facility in Greenfield to make batches of her juices and bottle them. Savané rents out facility space and pays some temp workers to help her put together the product.