Baker: small businesses key to Mass. economy
Small firms create half of Mass jobs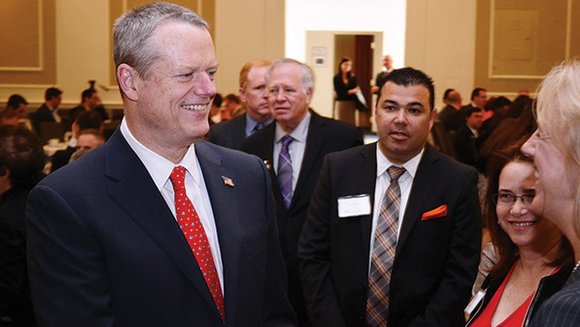 Massachusetts Gov. Charlie Baker had a strong message for the state's small businesses in celebrating Small Business Week — he knows how important they are for the success of the state's economy and he will do everything in his power to continue to support their growth.
While speaking at the annual awards ceremony of the U.S. Small Business Administration's Massachusetts District Office on May 4 in Framingham, Baker acknowledged that small business is responsible for adding half of the new jobs in the state and admitted that any new administration would be remiss to ignore the economic necessity of small business growth.
That's not an unusual message to hear from a new governor, considering the venue and the audience — the SBA event honored the state's top businesses with awards ranging from "Small Business Person of the Year" to "Woman-Owned Small Business of the Year" — but one thing that Baker certainly can claim is he knows firsthand how to back small business expansion.
His lengthy business background includes a stint as CEO of Harvard Pilgrim Health Care and executive in residence at General Catalyst Partners, a Cambridge investment firm that backs small business startups. A graduate of Northwestern's Kellogg School of Management, Baker also served as secretary of Administration and Finance.
Baker's time at General Catalyst Partners opened his eyes to the power of enterprise. He said he was wowed by how individuals could come in with an idea and figure out how to turn it into a product, and then a business with customers.
"It was amazing to me how big people thought when they came in and talked about these ideas," Baker said. "If you spend enough time with folks like this you really just start to believe that anything is possible."
He tied in this experience with the National Small Business Week theme of "Dream Big. Start Small."
Aspire and grow
For Baker, these kind of big-thinking, small business entrepreneurs that will change the economic landscape.
He points to companies such as travel website Kayak and web-marketing firm Hubspot as examples of small businesses that he saw start small in Boston and grow to be worth over $1 billion.
They did not get there by thinking small.
Baker points to the convergence of growing entrepreneurial ambition and rapidly evolving technology as key factors in the small business rise. Far be it for any young entrepreneur not to think big, but easier access to technology means big dreams can become reality in unprecedented ways.
"The great thing about where technology has gone over the course of the past 10 or 15 years is that it has leveled the playing field in ways that nobody ever thought it could to make it possible for small businesses to compete with just about anybody," Baker said.
This squares with the idea that small businesses are the real "disruptors" in most industries —small startups come to market, shake up thinking and approaches to servicing or providing products and wrest away market share from those who once dominated.