Labor activists urge support for higher wages
Launch next phase of campaign: push for personal care attendants
Eliza Dewey | 3/18/2015, 11 a.m.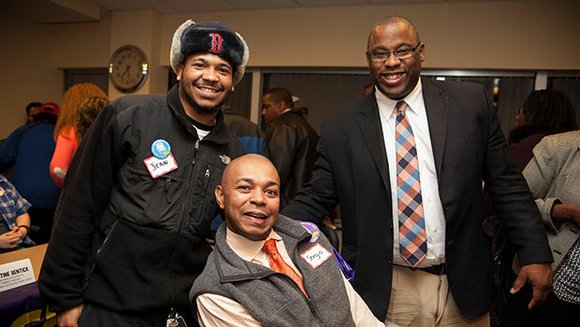 A group of home care professionals and labor advocates met at the 1199 SEIU headquarters in Dorchester last week to generate steam for their push for a $15 hourly wage for personal care assistants.
The group is part of the
WageAction Coalition, the local offshoot of a nation-wide push for higher wages in a variety of industries known as the Fight for $15 movement.
While Fight for $15 started in New York among fast food workers lobbying major employers such as McDonalds for a higher hourly wage, the movement has since spread across the country and expanded to a broader spectrum of professions, including hospital workers, taxi drivers, and airport workers.
Strategies utilized by movement leaders range from a new $15 minimum wage in Seattle to recent workplace-specific contract negotiations at health care facilities in South Boston, Lynn and Everett, says Jeff Hall, Communications Director for 1199 SEIU United Healthcare Workers East.
Last week's Dorchester event focused specifically on home care aides (also called Personal Care Attendants or PCAs) who provide assistance for elderly and disabled people with tasks such as showering, cooking and home maintenance.
The panel included a number of PCAs (both SEIU members and non-union workers), a hospital employee who makes more than the desired $15 wage but said she wanted to support her colleagues' efforts, and one woman who utilizes the services of a home care assistant. The speakers emphasized home care workers' devotion to the job, often describing close personal relationships with their clients.
Olivia Richard, the woman with a PCA, spoke about when her assistant came to work even on one of the worst snow days this winter.
"I was floored when she showed up at my door, right on time," Richard said. "She walked!" She added emphatically, "You guys are woefully underpaid for what you do."
A growing need
The event attracted a number of elected officials: city councilors Tito Jackson, Josh Zakim and Stephen Murphy, and state representatives Dan Hunt, Evandro Carvalho and Dan Cullinane, who received panel recognition for a bill he recently introduced that would raise wages for home health care aides.
As she introduced Cullinane, Veronica Turner, executive vice president of 1199 SEIU United Healthcare Workers East in Massachusetts, emphasized the strong affinity the group had for him.
"You're gonna take some heat [for your bill]," she joked. "But you've got a strong back, and we've got your back."
Cullinane said the issue was "about more than $15 an hour," stating it was also a matter of values. He also said his interest in the issue was driven by the sizeable growth of the home health care industry and the potential for state cost savings "for people to be able to age in their home."
A February report by the National Employment Law Project indicates the number of home care jobs in the United States is projected to grow five times faster than jobs in all other occupations. That report also notes that for the past decade, states have been shifting long-term care models away from institutions such as nursing homes and toward home care, generating significant intergovernmental savings.