Mixed reactions to Egleston Square proposal
Some wary of height, parking for 76-unit project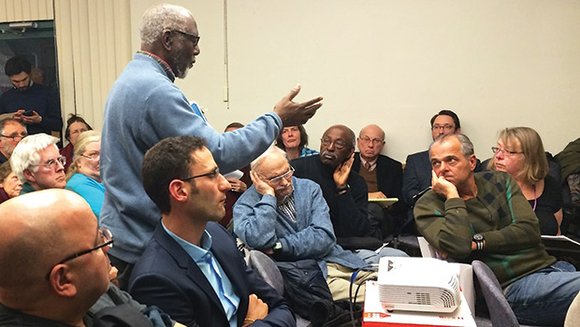 For More Info
Visit: bostonredevelopmentauthority.org – On the Development Projects page, search for "3200 Washington" to find the Project Notification Form and other project documents.
Submit comments to Edward M. McGuire III, BRA project assistant: edward.mcguire@bo...; 617-918-4251. Public comment period ends April 3.
Next community meeting: March 19, 6:45 p.m., at Brookside Community Health Center, 3297 Washington Street.
Community members crowded into a meeting room at Brookside Community Health Center last week to hear details and offer comments on a market-rate residential/retail development proposed for 3200 Washington Street in Egleston Square.
Kevin Deabler of RODE Architects presented the project, which would create 76 residential units across three buildings, replacing the old Economy Plumbing building, E & J Auto Tech and a one-story garage. He and Joseph Hanley, an attorney for developers Dan Mangiacotti and Justin Iantosca, then responded to comments and questions.
A mix of opinions emerged: Some attendees expressed support for the design and the developers and praised the project's aim to reduce car use, but many also voiced concerns about parking, affordability and building size.
"The neighborhood in general is in a bit of a panic about scale," said a Brookside Avenue resident. "Yes, we want a restaurant, and yes, these sites need improvement, but residents in small wood-frame houses look at this and worry, 'Is something this big going to go in across from me?'"
The proposed project includes two six-story buildings connected by a first-floor lobby that would face Washington Street. These would hold ground-floor retail and restaurant space, as well as 73 residential units. A smaller three-unit building facing Iffley Street would match the look of neighboring triple-decker houses.
Deabler explained that the project's height is designed to fit in with the tall former Franklin Brewery building across the street, and that the top stories are set back a little to make the building seem less massive from sidewalk level. The 30-foot slope of the site may help the new building heights mesh with that of houses nearby.
The proposal includes 36 parking spots — 33 enclosed spaces behind the larger buildings and three more as part of the smaller building. Nine new street parking spaces would also emerge with the elimination of wide curb cuts now in place for the auto repair shop.
The rationale for the relatively low amount of onsite parking is that transit-oriented development aims to discourage car use, taking advantage of proximity to T stations and bus lines as well as car- and bike-sharing locations. The project will offer bicycle storage and a T-pass subsidy. But some residents expressed doubts that new residents will actually be car-free and won't cause additional parking pressure.
Elizabeth Matos, a member of the project's Impact Advisory Group, noted that some community members, especially low-wage workers, need cars. "Many of them rely on their cars because public transit doesn't bring them home from their jobs at 4 a.m.," she said. "It's a little more complex than just trying to force people to get rid of their cars."
Of the 76 units, 11 would be designated affordable, meeting the minimum proportion required by the city's Inclusionary Development Policy for large projects.