Parent organizers preparing for charter school battle
New York-based education group ups the stakes
Yawu Miller | 6/10/2015, 10:13 a.m.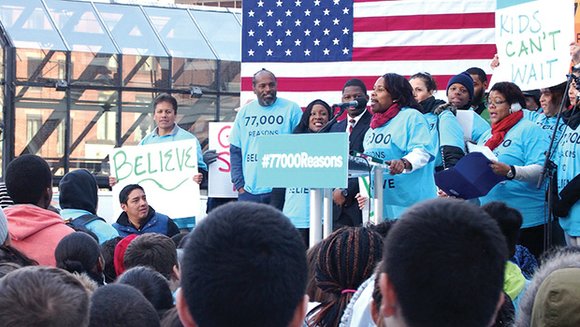 After incoming school Superintendent Tommy Chang announced the appointment of his new chief of staff, Makeeba McCreary, a consultant who previously worked for a pro-charter schools organization, local education activists launched a petition calling for her ouster.
That petition, titled Keep Corporate Education Reformers out of Boston Public Schools, which as of Monday had garnered 277 signatures, underscores deep distrust of Families for Excellent Schools the firm that hired McCreary as a contract worker. The New York-based organization has locked horns with Mayor Bill DiBlasio over charter school funding, reportedly spending $3.6 million on an advertising campaign, and last year turned out an estimated 13,000 demonstrators to the state capital in Albany to support lifting New York's state cap on charter school expansion.
FES, which also has a chapter in Connecticut, opened its Massachusetts office last year in the wake of a failed bid by charter school supporters to lift the Massachusetts cap on new charters. While FES staff and volunteers repeatedly have maintained that the group is not organizing exclusively in support of charter schools, their ongoing petition, which calls on legislators to "Give every child access to an excellent public school in his or her neighborhood — whether it's a district or a charter school," is widely seen as the opening salvo in a coming fight to lift the charter school cap. If the more than 10,000 signatures the group claims to have garnered so far is any indication, FES is ready to do battle.
Competition for funding
At the heart of the fight is a competition over public funding. Charters receive their funding from the school districts in which they operate, drawing upon the average per-pupil allocation calculated for a given fiscal year.
Under the current state law, charters can claim no more than 18 percent of a district's funding, limiting the number of charters that can operate in any given district.
Although the state is required to partially reimburse school districts for the funding they lose to charters, the state has not consistently fully funded the reimbursements, compounding the loss of funding districts face due to rising costs of health insurance and compensation.
With costs escalating in districts throughout the Commonwealth and Chapter 70 school funding declining over the last 20 years, fights over money are inevitable.
"There's clearly an ongoing challenge as we go through year after year of budget cuts," says Angelina Camacho, a member of the Citywide Parents Council and an opponent of lifting the charter school cap.
"The district schools are losing state Chapter 70 funding and the charters are recruiting higher-performing kids," said Glenn Koocher, executive director of the Massachusetts Association of School Committees. "Larger cities get hit really hard."
Parents interviewed by the Banner said the schools their children attend have been losing funding for music, art, after-school programming and sports. On a larger scale, the Boston Public Schools has phased out busing for 7th and 8th graders and closed several schools in the last two years.
On a smaller level, Camacho sees a growing list of supplies her son's school requests from parents.