Minority transit officials convene in Boston
US Transportation Secretary Foxx delivers keynote at conference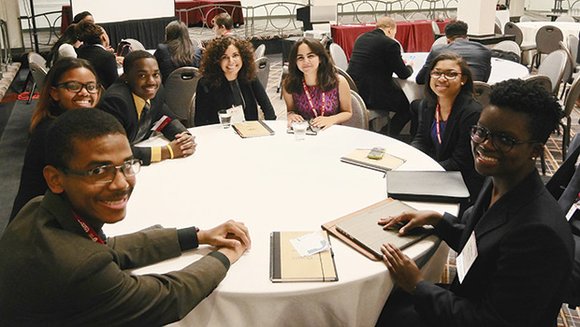 Hundreds of leaders in transportation from across the nation came together in Boston this week for the 44th Conference of Minority Transportation Officials (COMTO) national meeting and training event held July 11–14.
U.S. Secretary of Transportation Anthony Foxx delivered a stirring keynote speech Monday morning, highlighting transportation's wide-ranging importance, the negative impacts of past planning on some communities and the need to adopt a solid long-term federal transportation plan.
Foxx, who was mayor of his native Charlotte, North Carolina before being tapped by President Obama in 2013 for the cabinet role, began on a personal note. As a child growing up in his grandparents' house, he said, his view was dominated by two fences, behind which lay two interstate highways.
"Ten years before I was born, [those highways] were neighborhoods," Foxx said. "What I saw was an infrastructure system that boxed me in."
In a number of American cities, 20th-century road projects cut off black communities from opportunities in central business districts. This damage needs to be dealt with, Foxx said.
"In this young century, we have the responsibility and obligation to turn the page on that history," he said, "and to create a new vision of how transportation can connect communities and lift people up."
Foxx decried the current lack of congressional will to solidify a long-term plan, which has led to a series of short-term stopgap funding extensions.
The Obama Administration's proposed Grow America Act, a six-year plan to increase infrastructure investment, would increase transit funding by 70 percent and highway funding by 29 percent, he said. He urged attendees to contact their elected officials in support of the bill, which above all, he said, will bring needed certainty to the transportation sector.
He touched on the need for safer streets, citing alarming statistics showing pedestrian death rates for African Americans and Latinos far higher than for whites.
On a positive note, Foxx described an initiative to increase local hiring around transportation projects; internship programs that expose students to transportation fields; and projects his department is funding that will knit communities together, such as a bus rapid transit system in Richmond, Virginia that promises to raise dramatically the number of people with access to job-rich areas.
Mayor Martin Walsh also spoke in the opening plenary session, emphasizing the role of cities in transportation policy and mentioning transportation's critical role in Boston's recently-launched citywide planning process.
"Transportation is a field where you can see historic injustice written into the landscape," Walsh said. "Our roads and rails, our sidewalks and cycle tracks are not just about moving people from point A to point B. They represent our values and priorities. They should be about upward mobility, and moving toward a more just and equitable society."
The mayor thanked COMTO for holding this year's conference in Boston.
"It's a sign of progress when a major professional organization of people of color chooses our city," he said. "It didn't always happen, so your being here is symbolic."
Moving forward
The 2015 conference theme was "Growing America: Embracing Innovation, Inspiring Leaders and Bridging Opportunities." A thread running throughout was the need to develop a strong pipeline of next-generation transportation leaders.