Mark Morris Dance Group performs at Institute of Contemporary Art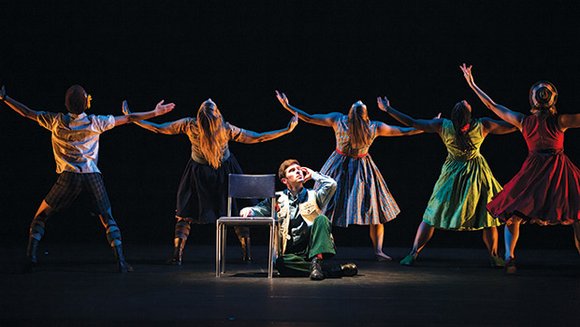 Since their start in the 1980s, choreographer Mark Morris and his company, the Mark Morris Dance Group, have performed often in Boston. Over the years, Morris has come to be regarded as the greatest choreographer of his time, but his Boston venues still include intimate concert halls as well as the city's largest theaters. Last week, Morris and his company performed five nights in the intimate setting of the Institute of Contemporary Art's 325-seat theater.
All of the qualities that have earned Morris his renown were on display in the program of four works: musicality, humor and above all, humanity, as well as a taste for mixing moments of surpassing beauty with a willingness to break the conventions of dance and create beauty from awkward, unexpected and visibly difficult moves.
The company performed with live music provided by its own musicians, pianist Colin Fowler and violinist Georgy Valtchev, who performed on stage.
The program opened with Italian Concerto, performed by five dancers as Colin Fowler played the music that inspired it: Bach's Italian Concerto in F Major. The lighting, costumes and choreography shift with the tone and tempo of each movement in the composition.
The opening movement, Allegro, is a brightly lit scene that accents the orange and red costumes of the dancers, Lauren Grant and Aaron Loux, whose quick, playful dancing includes athletic gestures such as clenched fists.
The next movement, Andante, unfolds slowly on a darkened stage. Taking the role that Morris danced in the 2007 premier of the piece, Sam Black performed a solo wearing black body-fitting garb. He stretched, pulled and pushed his limbs as if the space surrounding him had weight, reflecting the contemplative mood of the music.
In the third movement, Presto, the tempo quickens and light returns as Rita Donahue and Brian Lawson execute a duo with baroque playfulness and athletic energy. All five dancers come together in the finale. Each performs his or her signature movements, but in unison, as members of an ensemble, embodying the harmony in the Bach composition.
Next, an ensemble of eight dancers performed A Wooden Tree, a suite of 14 short dances Morris created in 2012 to a recording by Scottish composer, singer, and humorist Ivor Cutler (1923-2006).
Cutler introduces himself as an oblique musical philosopher" and fan of old fashioned entertainment. He hand-pumps a harmonium to accompany his array of tunes, from a tribute to a loyal friend entitled Stick Out Your Chest to a playful nonsense rhyme, Cockadoodledon't.
Morris responds to the oddity and droll humor of the songs with choreography to match.

Wearing outfits that could have come from a thrift shop — argyle socks, plaid pants, knit caps, sweater vests for the men and flared, girly dresses in bright colors for the women — the dancers appear to be having a ball as they execute frolicking but precise movements in tune with Cutler's slightly surreal tales.
Somber tension
In contrast to this light-hearted romp, the program's third piece is inspired by a somewhat somber classical composition, Suite for Violin and Piano, by pioneering American modernist composer Henry Cowell (1897-1965). Morris entitled the work Jenn and Spencer, for the two dancers who first performed it.