Northeastern University preps minority- and women-owned businesses for contracts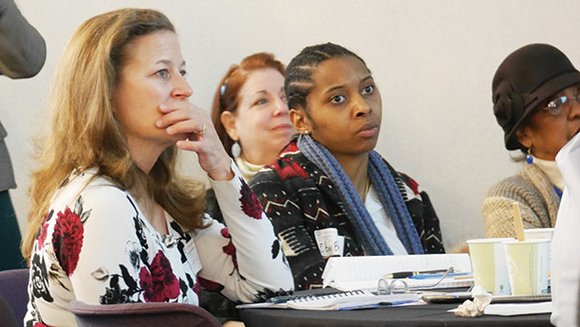 Northeastern University is launching a new initiative to help local and minority-owned and women-owned businesses build their capacity to win contracts from Northeastern and other large institutions.
The university is partnering with Next Street, a Roxbury-based merchant bank specializing in small and mid-sized urban companies, to deliver an intensive three-part workshop on strategic and financial planning, marketing and business development. In addition, the workshop will cover NU's procurement system and help business owners position themselves to compete for contracts.
Business 'Boot Camp'
The program, described as a "business boot camp," is aimed at minority- and women-owned enterprises in operation for three years or more in industries such as food and dining services, moving, construction, cleaning, trades and repairs, printing and copying, vehicle servicing and furniture. Companies with Boston zip codes are preferred, with three or more employees and revenues of at least $500,000 and ideally $1.5 million.
Besides training, the capacity building workshop will allow business owners to meet procurement representatives, ask questions and pitch their products and services.
A diverse group of area business owners attended a recent information session on the NU campus. They listened to a presentation and panel discussion about the program, the application process and how NU procurement works.
The panel discussion featured NU senior buyers and also Donna Williams, whose firm Roxbury Technology has been selling its remanufactured toner cartridges to the university for several years.
Williams advised would-be vendors to have all their certifications (minority, female-owned, state-level, city-level) in place, as well as a marketing plan and organizational chart. But the most important thing is to have the right product or service, she said — a product that Northeastern University wants to buy.
"We have a very successful relationship [with NU]," she said. "We meet, we troubleshoot if there are problems to work out. Nothing is perfect — if you have a roadblock, don't get discouraged."
Afterward, the 50 or so attendees had a chance to mingle and introduce themselves to NU and Next Street representatives.
Mabel Alvarez, an employee of Hicks Auto Body, said the Dorchester minority-owned firm has contracts with other universities now and will be applying to the capacity building program with the aim of securing work with NU. Leonardi Aray hopes his Cambridge architectural firm will have an opportunity to work with NU on renovation, construction and office relocations. Audrey O'Hagan, too, hopes her minority and woman-owned architecture firm can gain NU as a client.
The capacity building program workshop series will run in late March and early April, with 12 to 18 participants selected from a pool of online applications. Eligibility and priority will be based on a set of minimum requirements for the firms as well as a desired mix of business types and Northeastern's upcoming contract needs.
The application is available online now and will be accepted until Feb. 16.
Part of a Master Plan
Former City Councilor John Tobin, NU's vice president of city and community relations, introduced the information session. He said the capacity building initiative stemmed from the university's Institutional Master Plan, hammered out over a three-year period with input from community representatives. The outcome was a plan —approved by the city in December 2013 — that Tobin said benefits the surrounding neighborhoods as well as NU.