Deval Patrick: The double veil of an improbable life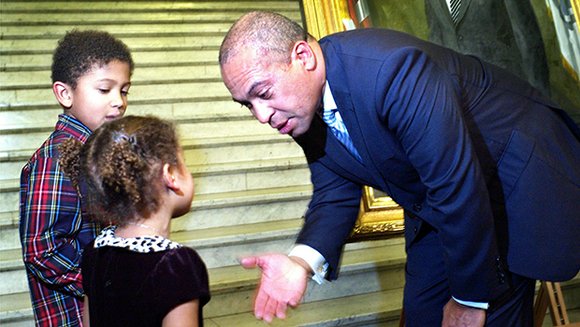 Deval Laurdine Patrick touched down in the Bay State during the Nixon administration, bearing an Afro and an acute case of homesickness for the Chicago family he'd left behind to attend Milton Academy as a full scholarship student.
He wasn't carrying a loaf of bread like the penniless Ben Franklin arriving in Philadelphia from Boston, but, like the colonial printer, was a stranger in a strange land, an outlier harboring ambition who traded on his talents to put an astonishing stamp on his adopted state.
The odds that a black child from the Midwest, raised on welfare and taught in schools scarred by violence, would successfully negotiate the racial landmines of busing-era Boston to become the Commonwealth's chief executive were impossibly long, which Patrick acknowledges in his moving memoir, A Reason to Believe: Lessons from an Improbable Life.
As the two-term chief executive prepared to leave office, he sat down with the Banner for a wide-ranging discussion about a career that took him from the South Side to the Corner Office, with stops in between at Harvard, white-shoe law firms, Fortune 500 corporate suites, and the U.S. Justice Department.
Raised by a single mother in his grandparents' home, Patrick was plucked out of the Chicago public schools in 1970 by "A Better Chance," an initiative formed in the wake of the Civil Rights Movement to send promising black students to leading U.S. prep schools. The shaded greens and burnished privilege of New England private school life were worlds away from the shadows of the Robert Taylor Homes project where the 14-year-old future governor began life's journey.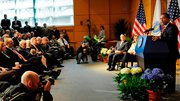 Sitting beneath an oil portrait of Civil War-era Gov. John Albion Andrew, who raised the famed all-black 54th Massachusetts Regiment, Patrick laughed about Milton Academy pictures showing him with a bouffant 'fro. "I got it in the first place not because it was fashionable, but because I didn't know how to get a haircut and I didn't know who to ask," said.
When he did walk off campus, "I was invariably stopped by the Milton police. Invariably," he repeated, his voice trailing off. "All those issues are back in the news, but they haven't gone away in people's lives." Years later, Patrick would address racial profiling during a stint as head of the U.S. Justice Department's Civil Rights Division, and the issue would recur time and again throughout his term in office as the Bay State's first African American governor.
In some ways a Golden Child of affirmative action — in the best sense of the phrase before it became a wedge issue and the subject of bitter attacks — Patrick rose higher and faster and achieved more than his peers, both black and white, because hard work, discipline and intelligence met more opportunity than was available among the gangs on Wabash Avenue.
Offering advice to the young, Patrick often quotes his grandmother: "Hope for the best and work for it." But he had something else — a deeply held belief in human dignity, which translated into empathy; and an unusual ability to live the "double veil," without rancor, described by W.E.B. DuBois in Souls of Black Folk as the legacy of living in two worlds, one black, one white.