Transit activists hopeful MBTA shut downs will spur investment in system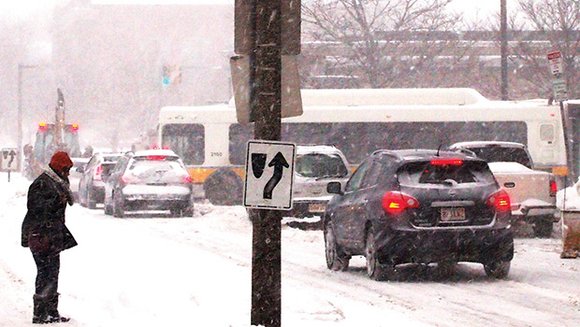 In the aftermath of the historic January and February snowstorms in Boston that led to transit shutdowns, stuck trains, borrowed shuttle buses and frustrating delays at frigid platforms, the MBTA announced it could be another 30 days before full service resumes on its rail lines.
If the T's very public crisis has an upside, it may be that it has jump-started active conversation about the agency's troubles and what can be done to ensure its future health. Some, including Governor Charlie Baker, have speculated recently that part of the problem stems from over-ambitious expansion plans made while core operations were left to deteriorate, but transit advocates have long argued that decades of chronic underfunding have weakened the system.
"My 1st Suffolk District is a community that relies heavily on public transportation, both buses and trains," said state Sen. Linda Dorcena Forry. "I don't think these problems are from expansion. This is decades of lack of investment."
Dorcena Forry was adamant that the improvements in progress on the Fairmount Line that runs through Roxbury, Dorchester and Mattapan should not be halted, as that work is already funded and is part of a Big Dig mitigation agreement.
State Rep. Russell Holmes also has Fairmount Line stations and riders in his district.
Holmes said he understands the concerns many have voiced about the expansion of the MBTA at a time when the agency has struggled to maintain its aging infrastructure, but echoed Dorcena Forry in emphasizing that the revitalization of the Fairmount Line, which for decades bypassed stops in the transit-dependent black community, was mandated by the federal government to offset the environmental impacts of increased pollution from the Big Dig project.
Besides, Holmes noted, no one is arguing for a reduction in MBTA service.
"We want more reliable transit and more service, and on the other side, we don't want to pay higher taxes or higher fares," he said. "That equation doesn't work. The crisis going on now gives us an opportunity to look at this again and do major reforms. This crisis should not go on without a resolution."
A matter of equity
Mela Bush is lead organizer for the Four Corners Action Coalition, a neighborhood stabilization group in Dorchester that spearheaded formation of the Fairmount/Indigo Transit Coalition more than a decade ago. The Coalition has successfully advocated for new stations such as Newmarket and Four Corners/Geneva Ave, and for reducing fares on the line to match subway prices.
Bush cited the mitigation agreement that led to the interior expansion of the Fairmount Linea as an equity issue.
"This was a civil rights battle," she said. "We were taking an hour and a half to go downtown, while the trains were running right through our neighborhoods without stopping. We fought for these trains and won. Finally, we got the new stations built, and others renovated, and weekend service so workers at Newmarket and other places could get to work."
She has been thinking a lot about what needs to be done.