Developers advancing market-rate housing development in Egleston Square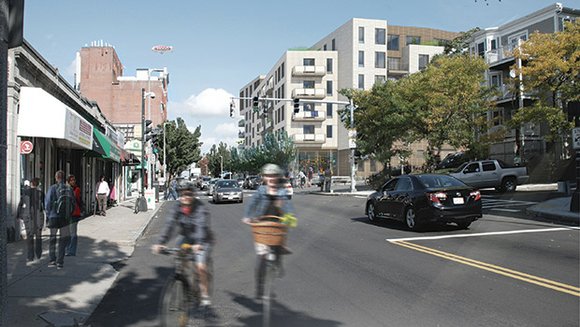 Jamaica Plain neighborhood and economic development groups are reviewing a proposed Egleston Square development that will bring 76 residential units and more than 5,000 feet of ground-floor retail space to the site of a former plumbing and heating supply company and a still-operating auto repair shop.
The project at 3200 Washington Street would be one of the largest private development projects to come to the neighborhood, which straddles the border of Jamaica Plain and Roxbury. Other parts of JP, including the Centre Street and Jackson Square areas, already have seen increased development and sharp rises in rent and purchase prices. Egleston Square, however, has so far received less development pressure and maintained a relatively large middle- and low-income population.
"Centre Street/South Street is fully developed, so developers are now looking this way," said Luis Cotto, executive director of Egleston Square Main Street.
Is this a sign of inevitable gentrification rolling into the neighborhood? Short of rent control, there are no sure ways to combat rising prices once a neighborhood catches the eye of affluent newcomers, though neighborhood advocates believe intentional planning and increasing the housing supply may help stave off displacement of existing residents.
"The increasing demand among higher-income individuals is not changing — people with means want to live in JP," said Tim Reardon, co-chair of Egleston Square Neighborhood Association's housing committee. "I think this project helps provide the supply that's needed to meet the demand. Otherwise, they're bidding on existing rental units. We can't deal with affordability by stopping the flow of supply."
It's still a work in progress, but so far the project at 3200 Washington, proposed by developers Dan Mangiacotti and a father-son team of Paul and Justin Iantosca, is to include 11 to 17 designated-affordable units. This amount represents at least the 15 percent required in large projects by the city's Inclusionary Development Policy, and at most approximately 22 percent, slightly short of the 25 percent proportion strongly encouraged by the Jamaica Plain Neighborhood Development Corporation. The higher number includes six affordable units that would be on an adjacent property on Montebello Street that the developers are hoping to acquire from the city.
(The plans were to be presented at a public meeting Feb. 10, but at press time that meeting had been postponed because of snow.)
The developers have been meeting since last spring with groups including Main Street and ESNA and have tweaked the plans along the way as a result of these discussions.
For instance, the proposal has evolved to include fewer studio apartments and more two-bedrooms, along with commercial space to enliven the streetscape, a goal very important to Main Street groups.
"Their first proposal had a club room for residents on the first floor," said Cotto. "[Main Street's] feedback to them was that it will be hard to get buy-in from us if it doesn't have commercial space on the commercial strip." In the current plan the entire first level will be retail.
Cotto said the proposal also includes some townhouse units for purchase by people with incomes below 65 percent of the area median income.