Poet, artist speaks at Museum of Fine Arts
Terrance Hayes turns life experiences into artwork
Page through any of the five poetry books by Terrance Hayes and it seems that when he puts a poem together, anything is possible.
A visual artist as well as a poet, Hayes lets the shapes and forms of his poems talk, along with the words. Alongside traditional -looking poems composed of stanzas and lines are others that frame words in charts and grids. A poem titled "Portrait Of Etheridge Knight In The Style Of A Crime Report" does just what its title states: In the boxes of a police report are phrases evoking the complex life of Knight, a distinguished poet who published his first book while serving an eight-year prison sentence.

Like Knight, one of his muses, Hayes freely draws on everyday language. A 34-line litany begins each sentence with the phrase "If you are addicted to…" In another poem, Hayes compares himself to a Hummer. A crossed-out paragraph titled "The Antidote for Invisibility" is a potent visual pun.
At the Museum of Fine Arts, Boston two weeks ago to speak about turning life experiences into art, Hayes began his talk by invoking jazz pianist Thelonious Monk. The musician's emphasis on practice, said Hayes, applies to poetry as well as other disciplines such as law and medicine.
A gem glinting in his ear and elegant in a sport jacket, plaid shirt and jeans, Hayes looked the part of a former athlete as well as a man whose distinctions include a "People" magazine nomination as Sexiest Man Alive along with a MacArthur Fellowship and the 2010 National Book Award.
His melodic voice inflected with a southern accent from his childhood in Columbia, South Carolina, Hayes, 44, kept a tag team of two nimble-fingered sign language interpreters working hard to keep pace with his fast-moving talk.
Showing slides while talking at the podium and occasionally reading from hand-held notes, Hayes had a congenial manner, often smiling as he spoke of his approach to making poetry. Although some of his poems are restless, searing first-person conversations with the reader, at the podium he appeared to be having a tremendous amount of fun.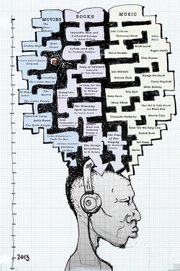 Multiple venues
A persuasive advocate for his craft, Hayes has conducted writing sessions in prisons as well as high schools. Standing 6'5" tall, Hayes was an Academic All-American in basketball at Coker College, where he studied painting and English. He earned an MFA from the University of Pittsburgh, where both he and his wife, author Yona Harvey, are professors of English. The couple and their son and daughter live in Pittsburgh.
Playful and purposeful in choosing the forms his poems take, Hayes borrows from unlikely sources. He described one of his innovations, a 20-stanza poem that mimics the format of business presentations in Japan, where he taught for a few years. The format, called a pecha kucha, requires the presenter to display 20 images and comment no more than 20 seconds on each one. When reading one of these poems aloud, he timed himself to follow the rule, which also influenced the word count of each stanza.