Overflowing Joy
The Millennium Gospel Choir performs its annual Christmas concert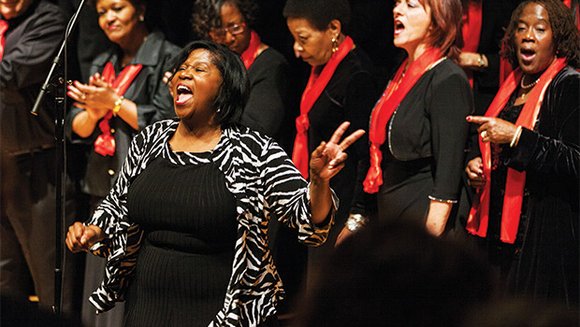 Now in its ninth year, the annual Christmas concert of the New England Conservatory Millennium Gospel Choir at the Museum of Fine Arts Boston has become a cherished holiday tradition for both the audience and the choir.
Friday night, at the first of two sold-out performances, the joy of the choir was apparent as they
proceeded on stage. When they began to sing, their joy overflowed and enveloped the audience.
Forming three rows on the stage, the choir, a visible mix of races and ages, wore black outfits accented by the men's red ties and the women's red stoles. Also on stage were the musicians, drummer Jamal Shoffner, keyboardist David Langford and his brother Gerald on bass.
The all-volunteer ensemble, including its musicians and directors, is one of those special Boston institutions that presents the city at its best. Drawing accomplished singers from church choirs throughout Greater Boston, its founding directors, including faculty of the New England Conservatory, formed the choir in 2000 to give praise and prayerful welcome to the coming of a new age.
The New England Conservatory Millennium Gospel Choir has performed in venues throughout the region, including NEC's Jordan Hall and the Tabernacle in Oak Bluffs as well as Old South Church, at the inauguration of Boston Mayor Martin J. Walsh.
This year's reunion at the MFA Boston was marked by joy as well as sadness, as the choir acknowledged the loss of co-founder Patricia Dance, who died in November. The choir dedicated the concert to Dance, who was also the choir director of St. Paul AME Church in Cambridge.

Performing as pianists and directors were Renese King, associate director of music at Union United Methodist Church; David Coleman, director of Tufts University Gospel Choir and minister of music at Greater Framingham Community Church; and two choir co-founders: Herb Jones, director of the Boston University Inner Strength Gospel Choir, and Donnell Patterson, minister of music at St. Paul A.M.E. Church.
Patterson, wearing red eyeglass frames and a red cummerbund, was a lively MC for the program, which showcased the varied individual and collective talents of all on stage.
Opening with "We Sing Praises To Our King," a hymn by Marshall Carpenter and Carol Cymbala, the choir displayed its full power as, directed by Deborah Fair, their voices ascended to a harmonious high tide of sound.

Herb Jones directed his own composition, "In the Beginning." His arms and hands stretching and bending with each note, Jones guided the choir through the song's blend of prayer and R&B groove as soloist Carolyn Saxon sang a tender conversation with God.
Debbie Greene directed a highly percussive "Joy to the World," in an arrangement by Dan Williamson that featured strong drumming and pulsing piano strokes.

Before conducting a sing-along medley of carols, David Coleman told the audience, "We're living in a dark time. But we bring good news. The people standing behind me and this music tell us that we are not alone. Our mission and message is that we are all one."