Local organizer shifts focus to transit equity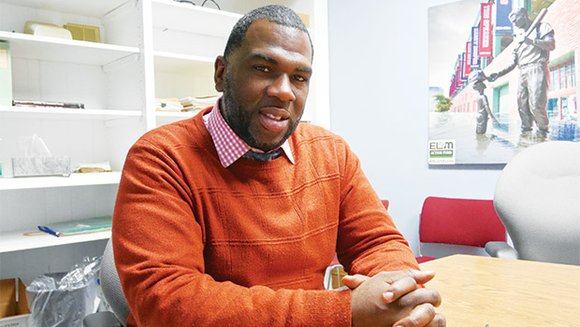 A statewide coalition focused on transportation policy has brought a Boston organizer and activist on board to help sharpen the group's focus on transportation priorities of community-based organizations.
Hakim Cunningham, a Dorchester native who cut his organizing teeth as an economic justice and jobs advocate, has taken on the newly-created role of social justice policy coordinator at Transportation for Massachusetts, a coalition formed in 2010 to advocate for safe, reliable, equitable transportation systems, adequate revenue, and transparency and accountability in transportation decision-making.
"My role is to bring together the communities of color to get a clear understanding of what the transportation fights are and how the current political and economic climate affects them," said Cunningham. "They need to be at the table to create policies that keep in mind the needs of those affected by transportation who are very low income."
Historically, many transportation decisions national and local have been made at the expense of less empowered populations.
In the mid- to late 20th century, federal highway policies favored the growth of car-oriented suburbs that welcomed affluent whites and shut out blacks. In the 1960s and 70s, a trend toward pushing highways through cities to ease automobile travel divided and destroyed neighborhoods of color, including in Boston where hundreds of homes and businesses were razed in the path of an eight-lane extension of I-95 that would have torn through Roxbury, Jamaica Plain and the South End. The I-95 project was stopped by grassroots action, but the demolition left a swath of vacant lots and a deep community distrust of government planners still evident today.
For decades, the Fairmount rail line running through Roxbury, Dorchester and Mattapan passed through the black communities in its path without stopping. In recent years, grassroots community activism by groups such as the Greater Four Corners Action Coalition and local community development corporations helped change that. With new stations, followed by reduced fares and increased weekend service, rail access is improving for residents and workers in the Bowdoin/Geneva, Four Corners, Talbot Avenue, Morton Street and Newmarket areas.
And each time the MBTA raises fares or cuts services — as it is contemplating right now to ease a $242 million budget deficit and backlogged repair costs — the impact is likely to be felt most painfully by those whose transportation budgets are tight, whose reliance on it is heavy, and whose political voice may not be the loudest, including senior citizens, low-income workers and teens traveling to school and to jobs.
Cunningham spoke with the Banner recently about his new job and some of the key transportation issues he hopes to tackle.
"My approach is to go out into the neighborhoods and be focused on bringing their voices to the table for any policy discussions and positions we hold inside T4Mass," he said. "I'm talking to those who haven't been at the table as much."
And what are some of the key transportation justice issues?
"I think it boils down to unreasonable fare hikes and fares in relation to wages," Cunningham said. "For individuals working low-wage jobs, fare increases take another chunk of their money. Also, just paying for transfers, even 50 or 80 cents at a time, it adds up, and can maybe be 30 or 40 dollars a week. That could be a bill, that could be some groceries! Especially if there is more than one person in a family, transportation can be a substantial portion of a household budget."