'Praise His Name'
Kuumba Singers of Harvard College give annual Christmas Concert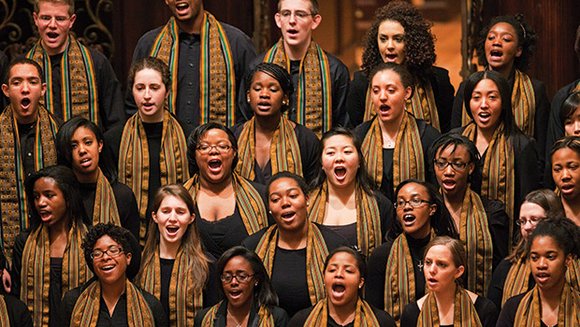 Performing at Harvard University's Memorial Church last Friday night, the Kuumba Singers of Harvard College got down to their urgent business right away.
The choir began its 45th Annual S. Allen Counter Christmas Concert, entitled "Praise His Name" with a brief and searing speech. Jalem Towler '15 stepped up to the microphone and, invoking victims of gun violence and terrorist acts from Sandy Hook to Charleston, Paris and San Bernardino, exhorted the slain and their loved ones to "Rest in peace and power."
"This is a public service announcement," Towler proclaimed, "do not be afraid." Quoting Bible passages that assert the kinship of all humanity as creatures of God, he concluded,
"So we will praise Him. Praise His Name!"
Then the 72-member choir let loose with a commanding delivery of "Anthem of Praise," a contemporary gospel composition by Richard Smallwood.
In their two-hour concert, the Kuumba Singers demonstrated that when it comes to suffering — and resilience — black culture and praise traditions are second to none in their power to elevate, heal and set things right.
Inviting all to take part, Kuumba Singers Director Sheldon K. X. Reid told the capacity audience of almost 1,000 at the first of two concerts last weekend, "Please don't hold back."

Dedicated to Dr. S. Allen Counter, Jr., director of the Harvard Foundation and an abiding supporter of the Kuumba Singers, the concert is free to all, an annual event that Reid described as "our gift to the community."
The choir did not hold back, performing a program that engaged all of the senses, from spoken word and song to dance. Demonstrating the black church tradition of oratory as well as music, in between songs, members of the chorus recited original poems and sermons that made the messages of suffering and redemption immediate and personal, here and now.

Lyrical joy
Lauren Fields '14 read her poem "I am Tired," a psalm-like lament that concluded, "I will not be tired for long." Marcus Granderson '18 acknowledged the endurance of suffering as well as resilience in his poem, "Hallelujah Anyhow." In "Rain," Ryan Boyland '17 voiced devastating grief over the death of a beloved teacher and concluded, "Sometimes even angels cry."
Complementing these intimate testimonials was the communal give-and-take of the entire ensemble, whose members, primarily black Harvard undergraduates, also represented more than one generation and race.
Starting with Towler's prelude, these orations were the spine of the program and song was its mainstay. The choir sang 15 traditional and contemporary spirituals that included two hymns in the African languages of Yoruba and Igbo. Selections varied in tempo and tone, moving from tenderness to thunder and from yearning laments to surging propulsive passages — often within the same song.
Orchestrating the choir's deep bass lines, tight harmonies and driving percussive power, arrangements varied from creating a tidal force of voices raised in unison to the complex layering of diverse, intertwined vocalizations —both the pride of the gospel tradition.
Accompanying the choir was a 16-piece band with brass, woodwinds, guitars, keyboards, drums and bass.