The importance of the web
Digital presence is key for minority businesses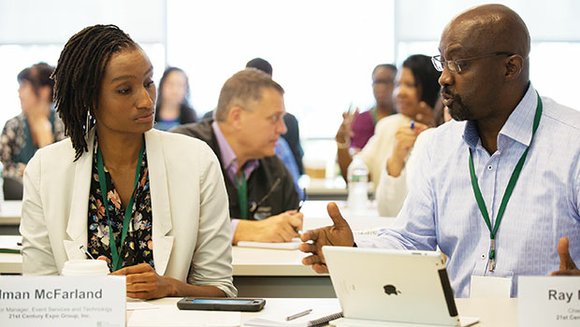 Maintaining a digital presence is crucial to all business in today's Internet-driven and increasingly mobile-dominated market. For small businesses, digital know-how can mark the difference between closing shop quickly and growing into a thriving company. And for minority businesses, argues Dartmouth professor Alva Taylor, digital excellence is even more essential.
"It is very important for entrepreneurs to have digital knowledge and digital excellence in their business. That is important for growth," said Taylor, Faculty Director of the Tuck School of Business' Glassmeyer/McNamee Center for Digital Strategies.
Digital strategies such as content marketing can level the playing field for minority businesses and open doors in ways that never existed before, he added.
Whether folks want to admit it or not, minority businesses still face barriers and biases that they are not as good as other non-minority companies, Taylor said.
The use of digital media helps eliminate preconceptions by keeping the focus on the products and services, not on who is offering them.
"You don't have the bias and the filters you often have," Taylor said.
Biases often prompt minority business owners to rely on a small network of professional colleagues, which may be fine for support but does not help expand business opportunities.
By using social media, they can expand their access to support, capital, hiring and what Taylor calls "decision makers."
Typically, a decision maker is a high-level executive at a big company that can make the call on what smaller companies with which it will do business and make investments. Getting one of these executives on the phone is all but impossible, but digital access is more readily secured.
"In the digital world those barriers are still there, but they are much less, and you can have direct access to customers," said Taylor. "The ability to connect is so much easier."
Moreover, big companies expect a certain level of digital knowledge and competence. If small businesses don't have it, they'll have no shot at working with the big ones.
Digital excellence
These are some of the reasons that Dartmouth's Tuck School of Business has teamed up with Google. Tuck has a longstanding commitment to growing minority entrepreneurship — its minority executive education program is 35 years old — and Google has ramped up its efforts to collaborate with small businesses, particularly through its Small Business Supplier Diversity Program.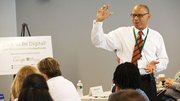 Google was the sponsor of the three-day Digital Excellence Program, which ran June 9-11 at Google's Kendall Square offices. The agenda featured sessions on constructing a digital strategy, marketing businesses online, managing digital communities, and learning how to use digital analytics. Taylor was a lead instructor, along with Google experts who offered insights into website design, search engine optimization and successful digital business models.
These are things that today's small business leaders need to know, but not all of them do. By the end of the program, participants were ready to make changes that would impact their business, Taylor said.
He emphasized the importance of top-level engagement, and sharply cautioned those small business leaders who think that pawning off digital strategy to some low-level employee is enough.