Expert describes toll of family homelessness
Mental health, brain development suffer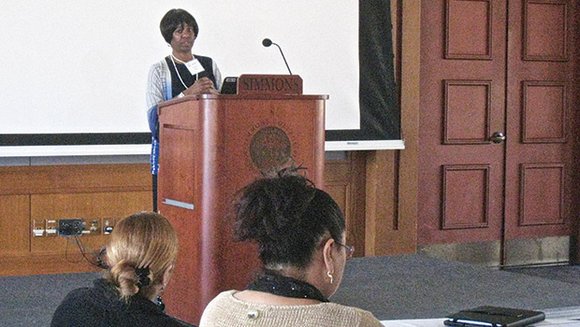 When women with young children become homeless, the instability and trauma has a ripple effect that can disrupt children's development and school performance for years to come, according to a local expert.
Homelessness in school-age children was the topic of a recent conference co-sponsored by Brookview House, a Dorchester nonprofit offering shelter and other services to women and children in transition, and Simmons College School of Social Work.
"When children become homeless, they lose a lot more than their homes," said keynote speaker Dr. Carmela DeCandia, a licensed psychologist and expert on family homelessness and child and adolescent development.
Homelessness-related stress and trauma plays a role in poor maternal health and poor parenting, which then affects child development, said DeCandia, co-author of a recent report on family homelessness. Ninety-three percent of homeless mothers have a history of trauma. Thirty-six percent are suffering some sort of post-traumatic stress disorder — triple the incidence of PTSD in the general population of women. These conditions are often factors in substance abuse and depression.
"Depression is the most common psychological disorder among homeless women," she said. "It's unacknowledged and untreated."
Though poverty is an overarching factor, domestic violence is often the immediate cause for women and children to become homeless.
About one-quarter of homeless children witness domestic violence, DeCandia said, and two-thirds experience physical abuse. By age 12, 83 percent have experienced at least one violent event in their lives. Homeless children suffer disruption of connections to family members, caregivers and teachers. All these factors, combined with parents' untreated depression that can make them less emotionally available, take a toll on children.
"This kind of instability can become toxic to children's development," DeCandia said.
She emphasized the crucial brain development that happens before age 5, a time in which safe and enriching environments increase the brain's functioning and overall resiliency. Studies show that children lacking sufficient parental interaction and verbal stimulation often lag behind in verbal ability and also in "executive function." Executive function underlies organizing, decision-making and impulse control, capacities that certainly play a role in school performance.
"The early years are critical," DeCandia said.
Safe and enriching experiences in the early years are like coins in a piggy bank, she said, leading to greater reserves of resiliency when problems do occur in life and at home.
The 2014 report she co-authored, "America's Youngest Outcasts: A Report Card on Child Homelessness," notes that nationally, nearly 2.5 million children experienced homelessness in 2013, a historic high representing one of every 30 children.
In the 2012-13 school year, 31,516 Massachusetts children experienced homelessness, an increase of more than 3,000 since 2010-11. The figures include both families living in shelters or motels and those who are temporarily "doubled up" in other people's houses.
Yet the report also indicates that Massachusetts does relatively well in its response, ranking near the top in a composite score that includes child well-being and state policy and planning. The Commonwealth's high rank is based on factors such as its relatively high number of shelter housing units for homeless families, its low number of children without health insurance and the existence of an active state Interagency Council on Housing and Homelessness.