JerkFest goes to Vermont
Celebrating sustainability, Caribbean culture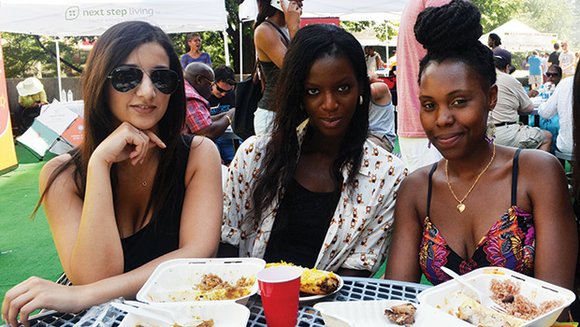 Nicola Williams and her Williams Agency, a marketing and event planning agency focused on food, culture and arts, has 20 years of success with events in and around Boston. Now, Williams is heading north with plans to put on Vermont's first Caribbean foodie festival this summer.
Set for Killington Resort in Killington, Vermont, from July 31 to August 1, the Vermont JerkFest & Reggae Festival will celebrate all things spicy and jerk hot, featuring local Jamaican jerk spiced food, spirits, craft beer and entertainment.
Williams hopes that the Vermont JerkFest can build on the success of the Boston JerkFest, which the Williams Agency has put on for the last two summers and will do so again this summer on June 26 and June 27 in the South End. Last year, the event attracted 4,000 people. This year Williams expects 5,000.
She says the Vermont JerkFest can come close to those numbers even though it is the first year.
At the heart of the JerkFest is the Jamaican hot and spicy seasoning, jerk, which is used in a rub to marinate and cook all sorts of meat from chicken to goat to shellfish, but the festival is really a cultural celebration of all things Caribbean, including a focus on locally produced food, the importance of sustainable agriculture and a strong connection between people and the land they live on.
For Williams, who is Jamaican, these environmentally aware attitudes are at the heart of her culture and are what really bring people together to celebrate at events such as the Boston JerkFest.
While the Boston event may be able to draw on a large Caribbean population in the city, Williams sees a prevailing attitude in Vermont about preserving the environment and the importance of the local farming industry that could attract attendees.
Many local Vermonters may have little experience with Jamaican or Caribbean culture, but the similar, earth-oriented values — celebrated at the JerkFest — should provide an immediate connection.
"Vermont reminds me of Jamaica in many ways with the connection to the land, to the mountains, to farms. Vermonters are also like Jamaicans and very down to earth and hard-working," Williams said. "Those are some of the attributes that attracted me to Vermont."
There is also hope that the Vermont JerkFest, especially since it is being held at Killington Resort, which can handle a large influx of visitors with its hotels, will attract travelers from the large Caribbean communities in Boston, Hartford and New York, as well as from Canadian cities including Montreal and Toronto.
"We very confident that it is going to be a great event and we are going to reach all sorts of people," Williams said. "It is not just for one community, everybody is invited to come and we expect many people of different nationalities and backgrounds to attend."
The Vermont JerkFest will kick off Friday July 31 with a Rum & Brew Tasting session featuring local craft beer, cider and mead and plenty of rum varieties. It will end the night of Saturday Aug. 1 with the Killington Jerk Jam, featuring reggae bands.