CNN reporter Don Lemon earns respect for shedding light on race issues
Kam Williams | 9/11/2014, 6 a.m.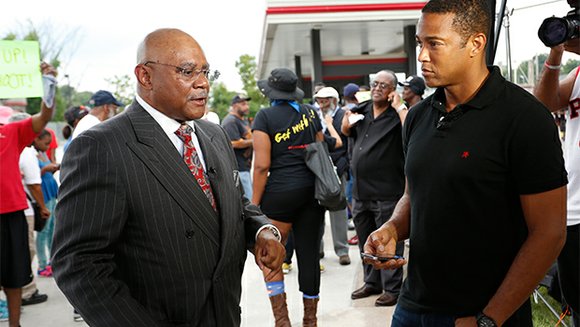 CNN's Don Lemon has anchored and reported many breaking on-the-scene news stories, including the George Zimmerman trial, the Boston marathon bombing, the Philadelphia building collapse, the Sandy Hook Elementary School shooting, the Colorado Theater Shooting, the death of Whitney Houston, the inauguration of President Barack Obama, the death of Michael Jackson, Hurricane Gustav in Louisiana, and the Minneapolis bridge collapse.
In 2009, Ebony Magazine dubbed Lemon one of the 150 most influential blacks in America. Furthermore, he has won an Edward R. Murrow award for his coverage of the capture of the Washington, D.C. snipers, and an Emmy for a special report on real estate in Chicagoland.
Lemon earned a degree in broadcast journalism from Brooklyn College where he currently serves as an adjunct professor, teaching and participating in curriculum designed around new media. Here, he talks about CNN's coverage of the recent shooting of Michael Brown in Ferguson, Missouri.
Kam Williams: Do you think your ability to report from Ferguson, Missouri was adversely affected by your almost becoming a part of the story like when you got shoved or punched by that racist cop or when rapper Talib Kweli put you in the awkward position of having to defend CNN's coverage on the air?
Don Lemon: Well, I don't know if I became part of the story. I just think we had so many resources devoted to it that we were way ahead of the competition. So, everyone tuned in to CNN, and they were watching us. [Regarding Talib Kweli] I'm not the only one on the air who's been put in a position of defending our reporting. If someone comes on and criticizes it, we're there to tell them the truth. [Regarding Officer Dan Page] I got pushed by an officer live on television, but that was just me doing my job. He pushed me, so it wasn't as if I'd injected myself into the story. We were standing where we'd been instructed to stand, and he came around the corner and shoved me when I just happened to be doing a live shot on The Situation Room. I don't think that made me part of the story. It was more that everyone was watching when news was breaking live around me.
KW: Were there any teachable moments for you as a journalist covering the aftermath of the Michael Brown shooting?
DL: I think there's always a lesson you can learn from any situation. In this case, I learned how tightly people hold onto their beliefs. And, here, people had really strong beliefs about this story on both sides. People supporting the officer felt Michael Brown did something wrong. Those supporting Michael Brown said the cop did something wrong. There was very little that you could do to convince either side otherwise, or simply to be objective and not jump to conclusions. So, if you were just reporting the facts, and said "Michael Brown did this…" you'd be challenged by his supporters asking, "How do you know that?" By the same token, if you said, "Witnesses say the cop did this…" the officer's supporters would challenge you with "Well, how do you know that?" It reconfirmed that I have to be objective in my reporting and allow viewers to read into it whatever they want. So, the teachable moment for me was a reminder that I just have to state the facts.