Bornstein & Pearl Food Production Center expected to create 150 jobs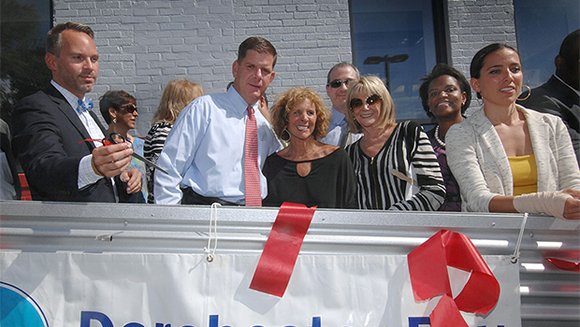 The Bornstein & Pearl Food Production Center officially opened this week with a festive celebration that included open-air food sampling, facility tours, a speaking program and a 30-scissors ribbon-cutting.
Boston Mayor Martin Walsh, state Sens. Linda Dorcena Forry and Sonia Chang-Diaz, City Councilor Tito Jackson and representatives of the federal Environmental Protection Agency and Housing and Urban Development were among the speakers, along with the private funders and nonprofit leaders who collaborated to bring the project to fruition.
"This is truly a great project," said Walsh. "We're expecting to see in the first few years alone 150 jobs on this site. But it's more than the numbers. It's helping people bring their dreams to reality. It's going to change lives. This project tells the story of how we're growing our economy across our city. We've salvaged a spot from the neighborhood's past and turned it into an economic opportunity for the future."
Developed by a consortium of nonprofits working in collaboration with the Dorchester Bay Economic Development Corporation, the Bornstein & Pearl Food Production Center is expected to create new jobs for community residents and serve as an incubator for new community-based food businesses.
DBEDC led the $15 million redevelopment effort, in partnership with CropCircle Kitchen, to transform the former Pearl Meats manufacturing facility into a 36,000-square-foot multi-tenant, light industrial business center.
The facility includes a large shared-use commercial kitchen plus cold and frozen storage for start-up and growing food businesses managed by CropCircle Kitchen, plus separate food manufacturing spaces for individual businesses ready to graduate into their own dedicated kitchen space. A commissary kitchen will serve the various food preparation needs of food trucks, restaurants, and institutions.
The ribbon-cutting day mood was solidly celebratory, with community leaders expressing unabashed satisfaction and pride in the culmination of a monumental collaborative process.
"Made in Dorchester!" said DBEDC Board President Daryl Wright to applause from the seated crowd.
"Making things reflects a level of knowledge, vision, resources and grit that can't be described if you haven't made something," Wright continued. "Walking by this revitalized facility, a place where we're producing healthy food, growing local businesses, and creating jobs for local people, lifts me up. We can make things of value in our community. So let's imagine this label: Made in Dorchester."
The Bornstein & Pearl facility is part of a comprehensive, $100 million redevelopment of Quincy Street between Blue Hill Avenue and Magnolia street. Adjacent to the center are 129 new and renovated Quincy Heights apartments. The redevelopment project was spearheaded by Dorchester Bay, United Housing Management, Nuestra Comunidad Community Development Corporation, the Quincy Geneva CDC, Project RIGHT, DSNI, CropCircle Kitchen, the City of Boston, along with a collection of 27 public and private funders.
The project was a model of local and diverse hiring. Jeanne DuBois, executive director of Dorchester Bay EDC announced that over 50 percent of the construction workers came from the neighborhood, 60 percent were minorities and 19 percent female. The project's split of 51 percent union and 49 percent nonunion allowed for more local hiring, she said.