Initiative for a Competitive Inner City recognizes inner city entrepreneurs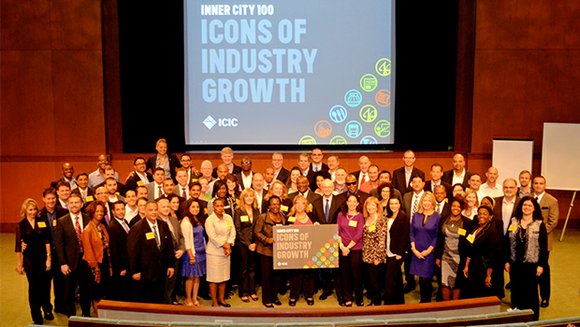 Every year Fortune Magazine publishes a list of the nation's 500 largest publicly owned corporations. Now, through the efforts of Initiative for a Competitive Inner City, better known as ICIC, Fortune also publishes an annual list of small businesses called the Inner City 100. Representatives from more than 300 such businesses gathered last week at Boston's Seaport World Trade Center to celebrate and learn which companies made the list.
ICIC was founded in 1994 by Harvard Business School Professor Michael Porter who realized that the development of small businesses is essential for the healthy growth of the nation's inner cities. In keeping with this principle, ICIC headquarters are located in Roxbury, a primarily black and Latino section of Boston.
The Inner City 100 list includes the fastest growing businesses as determined by revenue growth over a five-year period. Traditionally, the awards have honored the 100 fastest-growing businesses in inner cities, regardless of industry or sector. However, ICIC changed the format this year so that the list is comprised of the 10 fastest-growing inner city businesses in 10 distinct industry sectors. The hope is to give winners further recognition among their industry peers by ranking them within specific industries.
The 10 industries highlighted are Construction; Manufacturing; Professional Services; Food and Beverage; Retail; Media and Communications; Software and Information Technology; Transportation and Logistics; Healthcare and Biotechnology; and Arts, Entertainment, Recreation and Tourism.
Business owners and other entrepreneurs attending the event came from across the country and were well representative of the Inner City 100 list, which includes winners from 23 states.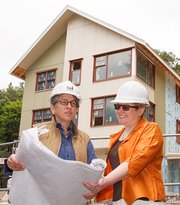 Massachusetts was represented by Pinck & Co., a Boston-based construction firm that ranked 83 overall on the list and No. 9 in the Construction industry. The firm is headed by CEO Jennifer Pinck and had a five-year growth rate of 99 percent with 2013 revenue of $2.8 million.
The top company on the list is Fruition Partners from Chicago, which had a 2,700 percent growth rate over the last five years and $29.6 million in revenue for 2013. The cloud-services company is tops in the Professional Services industry and is headed by CEO Marc Talluto, who also founded the firm.
Angela Tsay, CEO of Oaklandish, an apparel and accessories company based in Oakland, said this was her first time attending the Inner City 100 event. What she most enjoyed was interacting with other entrepreneurs and learning about how they got their businesses off the ground and found their market niches, she said.
Oaklandish was No. 33 overall on the Inner City 100 list — No. 1 in the retail industry — with a 337 percent growth rate over the last five years and $1.7 million in revenue in 2013.
Luis Gutierrez, president of Dream Management Inc. of Baltimore, said he relished the education and management seminars offered earlier at the two-day event and the chance to network with other inner city firms and urban entrepreneurs.
"We talk in general about business and how business is conducted in different cities and different areas," said Gutierrez, who is originally from Nicaragua. "This is a great opportunity for us."