African American viewers missing in U.S. art scene
Jamilah King | 5/29/2014, 6 a.m.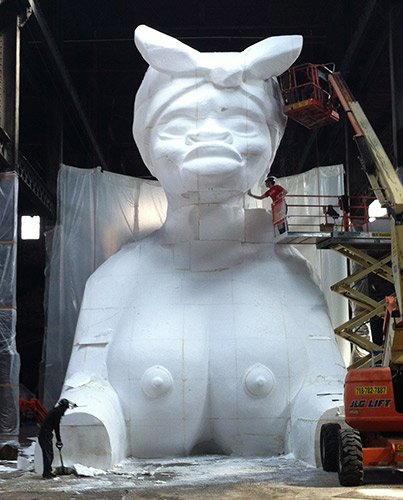 If you go to Kara Walker's new exhibit, "A Subtlety," at the Domino Sugar Factory in Brooklyn, a lot will overwhelm you. You'll likely wait outside in a line that snakes down Kent Street, across from rowhouses that were once owned by Puerto Rican families and now fetch millions. You'll sign a waiver absolving the show's curators of legal responsibility for the asbestos and lead that you'll inhale while you're in the dilapidated 158-year old factory.
And, once inside, you'll see at least a dozen "sugar babies" made of molasses and resin — molds of black children literally melting before your eyes. You'll smell the molasses as you walk through the exhibit anchored by a 35-foot tall sphinx made of what the artist has called "blood sugar" and sculpted into the shape of a naked mammy. You'll also see white people. Lots of white people.
This is not a bad thing. In fact, it's reassuring that so many white people have a vested — or at least passing — interest in consuming art that deals with race. At the same time I found it unsettling to view art by a black artist about racism in an audience that's mostly white. It reinforced the idea that black people's histories are best viewed but not physically experienced.
Still, the exhibit itself is a striking and incredibly well executed commentary on the historical relationship between race and capital, namely the money made off the backs of black slaves on sugar plantations throughout the Western Hemisphere. So the presence of so many white people — and my own presence as a black woman who's a descendant of slaves — seemed to also be part of the show. So often, race and racism in America are seen as the sole burdens of people of color, but this subtle interaction demands that white people be part of the conversation. It also, uncomfortably, reintroduces the slave as spectacle. Nearly everyone had their phone out and the Instagram hashtag #KaraWalkerDomino was filled with images of the exhibit. In that way, it was a deeply interactive exhibit, one as much about the present as the past.
"Kara's work is courageous in that is just puts it out there," says Hank Willis Thomas, a black artist who's exhibit "Question Bridge" has appeared in more than 60 museums across the country, noting that some black audiences aren't particularly interested in revisiting profoundly painful parts of their histories. "You're supposed to feel drawn in and horrified by the work. For me the sphinx does that. She can make something that's repulsive and beautiful and sticky and troublesome all at the same time."
The overwhelming whiteness of viewers isn't unique to Walker's exhibit. There are more than 17,500 museums in the United States that are visited by 850 million people annually, the vast majority of whom are white. Art, particularly when it's commissioned and it's covered in important publications like the New York Times, is often seen as the exclusive domain of white folks. Museums, dating back to their modern origins in the 18th century, were usually built by wealthy white patrons and enjoyed by middle and upper class European families. In the American context, they served a specific purpose for opening up and exploring a new continent, according to Ford Bell, head of the American Alliance of Museums who was quoted by NPR in 2008. People of color — their customs, their cultures and, in the infamous case of Sara Baartman, their bodies — were usually the object of those white gazes. But in recent years, as the country's demographics have shifted in favor of a so-called majority-minority, the art world has made great strides in featuring the work of artists of color. It's hard to imagine any work by an artist like Walker or Carrie Mae Weems, at the Guggenheim 50 years ago.