Election reform legislation modernizes Massachusetts' voting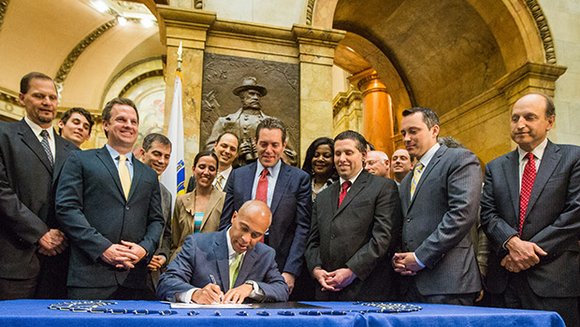 With the signature of Gov. Deval Patrick, a new Massachusetts election reform bill became law last week and has advocates heralding the legislation as making the state a leader in voting modernization.
Pro-voter advocates entered this legislative season with a laundry list of changes and state legislators have delivered some of the major ones — and in particular some of the reform that had previously put Massachusetts way behind more conservative states.
Signed by Gov. Patrick on May 22, the state's newest election reform bill includes early voting, online voter registration, post-election audits of voting machines, and pre-registration for 16- and 17-year-olds.
"This legislation makes our democracy stronger," Gov. Patrick said in a statement. "With this new law we are making it easier and more efficient to register and vote, ensuring more people have an opportunity to participate in the election process."
Early voting gives voters up to 11 days before a general election to vote at a designated early voting site. Early voting will apply to all November state elections, excluding primaries, beginning in 2016 and will also permit early voting by mail.
Online voter registration will be done via the completion of a digital affidavit of registration, and the state will establish a website to update citizens on the status of their registration.
Pre-registration for 16- and 17-year-old voters allows them to be registered as "pre-registrants" in the annual voter registry and registered to vote once they hit the legal voting age of 18. Pre-registration will be completed at the Registry of Motor Vehicles and in high school classes.
Post-election audits of voting machines will be conducted at 3 percent of the state's precincts after presidential elections with a target to improve the integrity of the voting system.
Cheryl Clyburn Crawford, executive director of MassVOTE, calls the election reforms a big step forward for Massachusetts. Like many election reform advocates, the Massachusetts effort is driven by a desire to increase voter participation in elections — and specifically participation from young voters, lower-income communities and communities of color.
"We are now moving into election modernization. Everything in me believes that these pieces of legislation are going to absolutely help us turn out communities of color. We are removing the excuses why people say they do not vote," Crawford said.
According to Rock the Vote's Voter System Scorecard, the new Massachusetts election reforms push the state from a rank of 42 to a tie for 10 in a ranking of state laws and practices that increase access and foster voter participation.
The Voter System Scorecard, backed by research and analysis from CIRCLE, Fair Elections Legal Network, Overseas Vote Foundation and The Pew Center on the States, uses a 21-point scale to assess how states serve voters. It focuses on three categories:
Voter registration, including automatic registration, permanent and portable registration, same-day registration, online voter registration, and restrictions on third-party registration drives.
Casting a ballot, including whether votes can be cast on days other than the traditional Election Day, voter identification requirements, residency laws, the absentee ballot processes, and laws affecting military and overseas voters.
Young voter preparation, including state requirements about civics education and evaluation, and the ability of young people to "pre-register" to vote before they turn 18 years old.